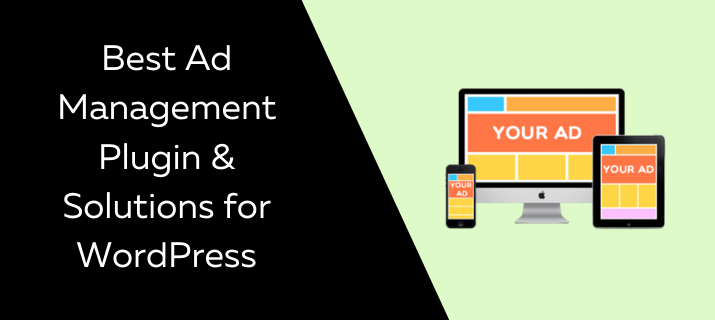 7 Beneficial WordPress Ad Management Plugins to Manage Ads in 2023
Several of the blogging websites as well as the ones that possess an enormous amount of traffic rely upon advertising as their main source of income.
Having said that, for most of the
bloggers
, monetizing their websites by selling their website spaces is among the most effective ways to grow their revenue.
Now, if you want to keep the count of your revenue that you earn from the ads and to make a fair choice of what type of ads to display when and where to display ads, you will need to consider ad management to the optimum level.
For that, you need the right kind of strategy and tactics. At the same time, you should also make sure about optimizing the ads for getting the higher performance.
Back and forth, when you are looking to manage ads on your website effortlessly, especially for the WordPress website, then you should always keep in mind of using the best Ad management WordPress plugin.
Here in this article, we are going to discuss a few of the impeccable WordPress plugins list that can help you to manage your entire ad management process in a hassle-free way.
So, without any further wait, let's jump to the ad management WordPress plugins.
Let's begin!
Ad Management WordPress Plugins List
AdSanity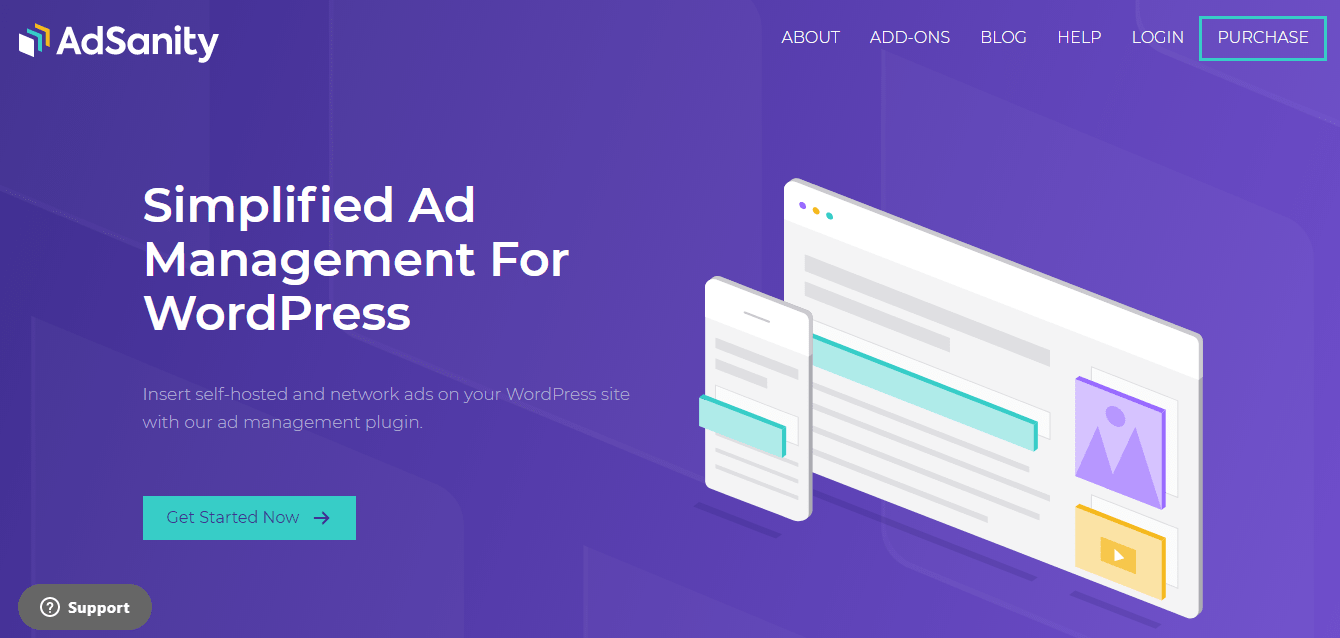 AdSanity
is a powerful Ad management plugin for WordPress that offers you with the seamless ad management experience and to take advantage to keep track of your clicks and views that you get from your ads on your WordPress website.
Additionally, AdSanity is a lightweight plugin and is designed to perform faster. On the flip side, there are many of the add-ons to enhance the core features set of this awesome plugin
Key Features of AdSanity includes:
HTML5 ready ads are on the top trends which AdSanity can easily manage with all the latest advertising needs
With the use of Widgets, shortcodes, and template tags, it is easier for you to place your ads anywhere you want on your WordPress website
Offers two option for ads infinite and date based that allows admins to set the starting and end dates for a particular ad
Allows the graphical stats to see how the ads are performing on your WordPress website
Provides filters and actions for the developers to make customizations
Besides, this plugin can be the best fit, if you want to keep your ads as simple and clean without ever having the hustle of going elsewhere for setting and other options.
Pricing:
The Basic plan price for this plugin starts from $49 / Year
Ads Pro Plugin

Ads Pro Plugin
is as they say is the biggest ad manager plugin that helps you to get a better online advertising experience.
This plugin can surely make your advertising to the level up as with the use of this outstanding plugin you can manage your ads faster and can grow your earning.
Advanced features of Ads Pro Plugin:
Powerful backend admin panel to manage unlimited ad spaces
Offers more than 20+ ways to display your advertising options
Provides 25+ ads templates of 8 different categories
Most popular payment gateways integration like PayPal, Stripe, and Bank Transfer.
A/B split testing option to compare ads and find out the best performing ads with higher CTR (Click through Rates).
Allows you to show or hide your ads depending on the geo-location for countries and zip codes
Specific filters to show or hide your ads based on the categories/tags
Pricing:
This plugin is available to purchase on the CodeCanyon marketplace at $57 for its regular license usage.
WP In Post Ads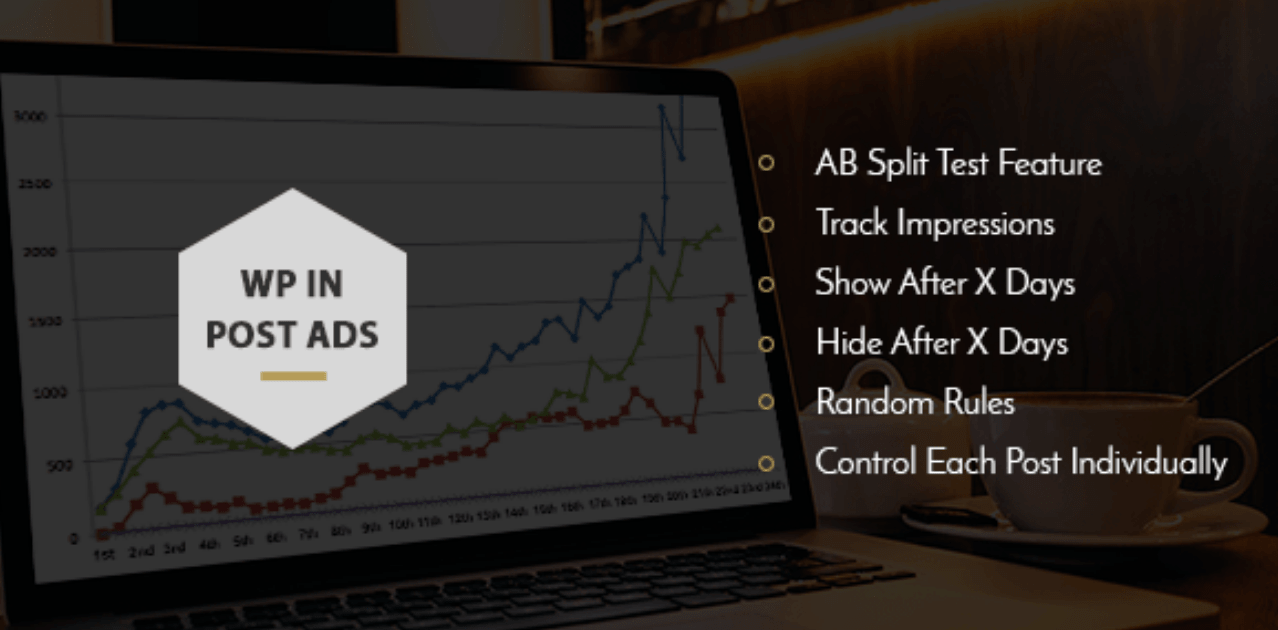 WP In Post Ads is a classy ad management plugin that lets you manage your in-post ads for your WordPress website.
This plugin can prove to be the perfect plugin for your ad management as this plugin can show your ads in whichever part of your content you want to. Whether you want to display ads after the content, before the content, show ads after the post title, show ads after N number of paragraphs, after certain days for your ads to appear, and more.
Features of WP In Post Ads:
Provides A/B split testing feature to test the positions for your ads to find out the ads that get the most clicks and can generate more profit
Ability to count Ad views to monitor your ads impressions
Facilitate you to show an ad after the post title on the left, center, or on the right side.
Allows you to show the ad after the content or at the bottom of the post
Provide an option to embed your ads into the content and select where to position it
Ability to show ads with the shortcode and display your ads where you want them to appear
Showing or Hiding ads after certain days or for the set period
Ability to turn off the ads to the logged-in users
Integrating ads with Google Analytics to see the detailed stats of your ads performance
Further, with the use of this feature-rich plugin, you can display ads randomly, options to set various rules for each post, and above all, this plugin will almost work on any of the
WordPress themes
.
Pricing:
This plugin paid plan starts from $29 / Year for 3 website usage (1 Year of support and updates available)
AdRotate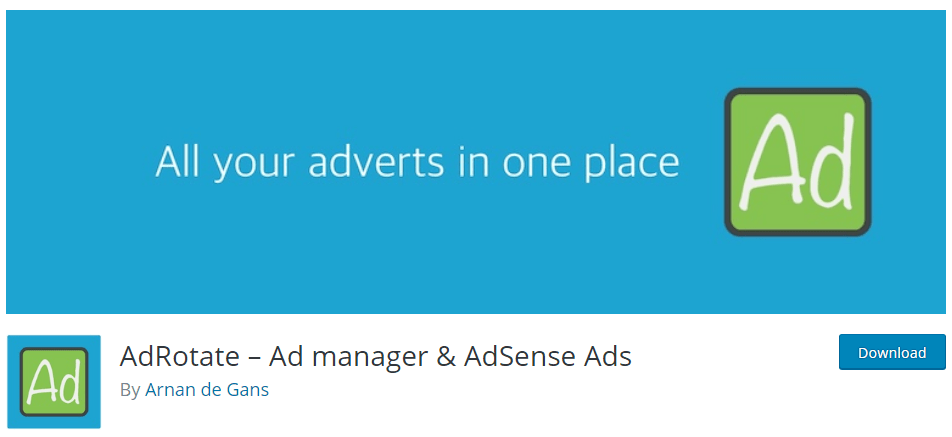 AdRotate
is an excellent WordPress ad management plugin that can help you to easily manage all your ads from its simple dashboard.
This plugin provides you the easy way to monetize for your WordPress website. With this simple and easy to use the plugin, you can have the seamless option to manage your adverts without ever need for editing your WordPress themes.
Key Features of AdRotate:
Allows you to place adverts randomly anywhere on your WordPress website
Easy to manage clicks, impressions, and even the Click-Through Rates (CTR)
Auto disable Ads after they gets expire
Allows you to make use of shortcode anywhere on your WordPress website
Provides you the facility for geo-targeting for country and city
Placing widgets for single adverts or groups
Email notifications when your adverts expires
Offers you to create an advert that can fit best on the smartphone and tablets
Besides, this plugin offers many of the useful features that can help you to run successful advertising campaigns on your WordPress website. With AdRotate Pro you can let your advertisers create their own adverts.
Pricing:
The pricing for the AdRotate Pro starts from €39 / Year for a single website license.
Ad Inserter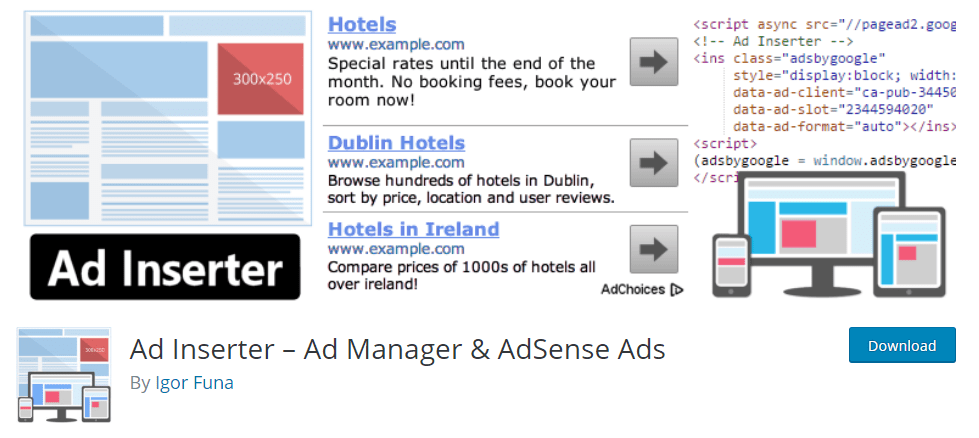 Ad Inserter
is yet another powerful WordPress ad management plugin that comes with many advanced advertising features to insert ads in the best position.
This top-class plugin is more than just an advanced ad manager plugin as with the use of this plugin, you can easily have the option to insert opt-in forms, HTML, CSS, header scripts, AMP Ads, and even placing the analytics tracking code is possible anywhere on the page.
Important Features of Ad Inserter:
Allows you to insert ads before or after post, content, paragraph, images, and more
Facilitates to insert ad with a sticky position with an optional close button
Support ads on AMP pages
Ad rotation groups that rotate multiple ad blocks
Allows you to track ads for the clicks and impression
Facilitates to insert Google Analytics or any other web analytics code
Supports country and city based Geo-targeting
Supports banner and placeholder code generator
Manual insertion of Ads using shortcodes and widgets option
Allows you to add custom block alignments and styles
Other than when it comes to the paid version of Ad Inserter, this plugin offers advanced features such as advanced click detection, click fraud protection, and many more useful features that are provided by this plugin.
Pricing:
This plugin offers free and paid versions both. The paid version of Ad Inserter starts from €20 / year on 2 website usage (1 year of free updates available)
Advanced Ads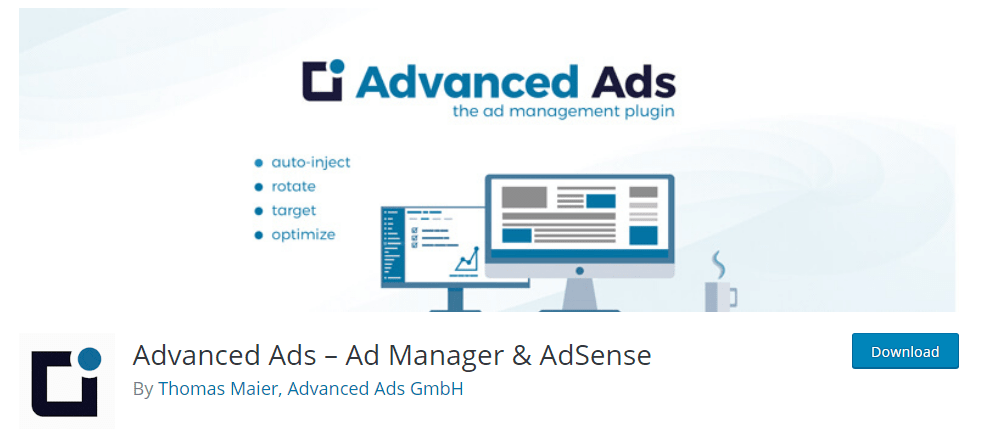 Advanced Ads
is a simple and easy to use ad management plugin for WordPress that will help you to create, manage, and display a seamless number of ads.
With this great plugin usage, you can grow your revenue stream with the use of the highly advanced features in a hassle-free way.
Here is the features list of Advanced Ads:
Allows you to manage and show unlimited ads
Provides you the options to set up a starting and an expiry date and time for your ads
Ability to deliver dynamic ads
A/B split testing between various ad groups to find the best performing ads and positions.
Clicks fraud protection from clicking the same ads continuously
Selling ads spaces to increase revenue by selling ads automatically to advertisers
Offers Ad rotation based on customizable ad space
Showing ads based on visitors location like country, city, continent, or radius
Allows you to create different ad setups for mobile to enhance the performance
Facilitates to track ad impressions, and clicks reports along with the option to share them using the URL or email option
Easy to connect with your AdSense account and import ad units and reports
Plus, there are other features that this great plugin offers like choosing any ad position in the header or any other elements, sticky, popup ads, trigger ads based on user activity, background ads, embed ads after a specific number of words, and more.
Pricing:
The Advanced Ads Pro plan starts from €39 / Year for a single site usage (1 Year of support and updates available)
Ultimate Ads Manager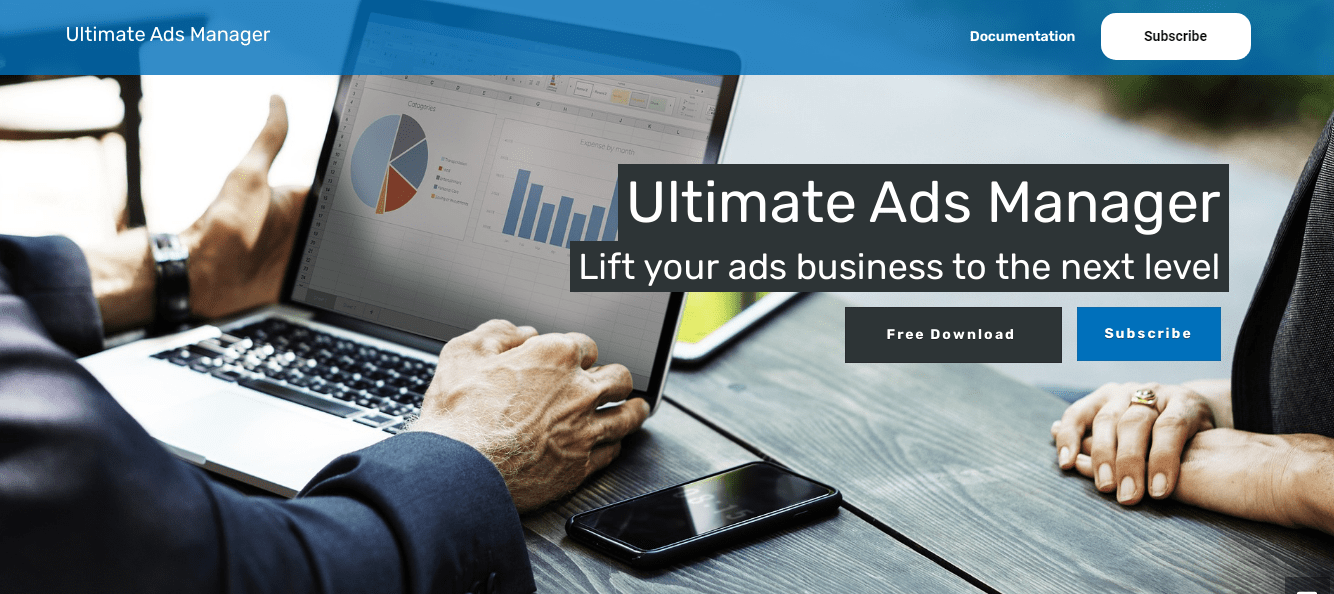 Ultimate Ads Manager
is a reliable WordPress ad management plugin that can help you to boost ads revenue and bring it to the next level.
Better yet, this awesome plugin is easy to use and offers plenty of useful features providing better user experience. This plugin gives you seamless options when it comes to creating ads, managing ads, automating, and displaying ads.
Whether you want to show the group of ads or if you are
looking to schedule
the ads, this great plugin can let you do that in just a matter of a few clicks.
Here are the key features of Ultimate Ads Manager:
Shows extensive statistics for ads clicks and views
Supports an easy integration with Google Analytics
Display advertisement with the use of widget or using shortcode anywhere on your page
Facilitates you with the grouping of ads and scheduling ads
Provides you to see weekly reports via email
It allows you to show image ads
Allows you to define restrictions for ads such as date, clicks, views, and weekdays
Best of all, the premium version of this plugin offers some extra value-added features like the ability to show custom script ads, getting CTR (Click Through Rates) in ads overview, DCM ads, and getting data of the previous week, month or year.
Pricing:
This plugin offers both free and premium versions. The ultimate ads manager premium can cost you $70 / Year for a single website usage (1 Year of support and updates available).
Final Thought
In the end, after going through the WordPress ads management plugins mentioned in this article, you can easily figure out the best suitable plugin that can help you grow revenue most efficiently while you sell your advertisement spaces in your WordPress website.
If you like reading this article, then show us your support by sharing it on the social network to your friends and colleagues in your network. Any suggestions or thoughts? Just leave it in the comment section, we will help you out for that!