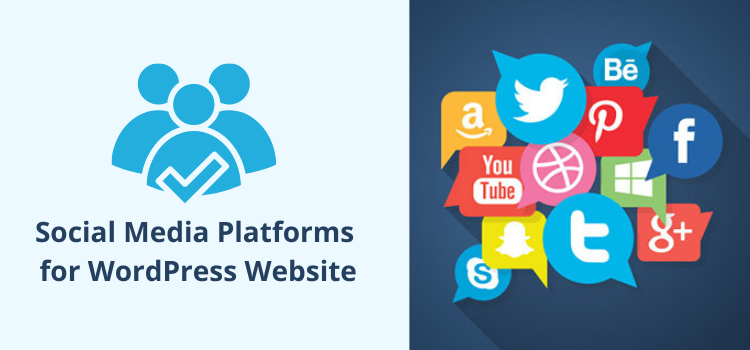 Know the Right Social Media Platforms for WordPress Website 2023
If you want to captivate the market for your brand to sell products and services, then you need to ensure the use of social media networks.
On the flip, social media can boost traffic, relevant audience reach, and drive more leads.
Having said that, even though if you are using every social media, then doesn't necessarily mean that all of them are the right place to promote your business.
Just because popular platforms like Facebook or Twitter have most of the users doesn't necessarily mean that they are the best platform to promote your business. Instead, you should think out of the box and consider making use of the different relevant social media channels.
Moreover, you need to figure out the relevant social media platform where your target audience mostly hangs around.
So what should be the better way to promote business through social media?
Well, to say it to the best, you can make use of more social media channels that work best for your business.
Back and forth, when you are sure enough of using the right kind of social media, then you can make rest assure to make a difference in promoting your business to the next level.
Now, before we move ahead to evaluating the right kind of social media channels, let us understand it's important first!
Importance of Selecting the Right Social Networks
As the owner of the business, your time is what matters the most, specifically when it comes to planning out the social media marketing strategy.
So, today in this article, we are going to take you to the various social media channels to help you find out the best working ones for your business, your website, and your goals.
Let's begin!
Making Use of Facebook for Building Communities
Facebook is one of the most prominent social media platforms that have more than 2.7 billion monthly active users. Facebook is a fantastic social media platform that can help you engage straight with your audience.
One of the most beneficial things about Facebook is that it allows you to create pages to uplift your business. Along with that, the Facebook groups can also benefit you as you can appeal to more target audiences who can be interested in your website's niche, share their opinions, and the ones who are relevant to your industry.
Further, you can offer more value to potential buyers by promoting the new value-driven content of your product or services. Facebook also gives the option to boost your business with the option of creating potential events.
Sharing Content on Twitter
Twitter is yet another powerful social network that has gained vast popularity as there are more than 330 million active users for a month. Twitter can be a great option to share the compelling content of your business website.
Back and forth, if your website has full of in-depth pieces of content with some informative posts that can easily catch your reader's eyeballs, then you can make excessive use of Twitter to engage the audience and converting the prospect to leads.
On the other hand, Twitter can help you tweet the quotes and phrase lines from your content that can rapidly help you to increase your Twitter followers.
While sharing your tweets on Twitter, you need to make sure to be fast-paced, so you need to be frequently tweeting and retweeting at so many times.
Leveraging the Use of Instagram
Apart from the above of the two incredible social media platforms, Instagram deserves the place in our list of the right kind of social network that is one more great social network.
So, if you have a website that has some eye-catchy and appealing high-quality images that visually look great, then Instagram is the go-to social network that allows you to share the high-quality images of your website and to captivate the audience for your business.
With that said, currently, Instagram has over a billion active users per month, and that is the reason why it has been more popular for businesses among the several social media channels.
Better yet, you should always keep on the practice of sharing relevant images to build a strong following base on Instagram.
Utilizing Pinterest as an Image Discovery Platform
Pinterest
is not just about the DIYs (Do It Yourself) and sharing only the recipe things. Instead, it is one such reliable social media platform that has approximately more than 400 million monthly users that can vary for a different niche.
There are boards on Pinterest that consist of various Pins for every category when you search for Pins and boards related to industry niche.
Hence, there is no question that you can't find the answer you are looking for. One of the vital parts of Pinterest is that it is images driven platform where you can share your featured image as well as sharing infographic images. So, when you are utilizing this social network, make sure to put extra thought into a clickable image to increase your audience reach.
YouTube Still Captivates the Top Position for Video Content
YouTube is an incredible social media platform that can help you to share your video content for your business or brand. There is a much larger audience (About 2 Billion) that visits YouTube each month.
On the positive side, YouTube is a powerful platform, especially if you have a lot of videos on your business website. Plus, YouTube gives you a higher chance of grabbing more subscribers who could become your future customers.
Additionally, the social networks listed above are some of the most advantageous that can benefit your WordPress website. On the flip side, keeping into consideration your target audience, you may also take advantage of social networks like:
LinkedIn
Snapchat
Reddit
WeChat
Medium
Tumblr
Share Button Plugin for WordPress
Apart from that, one of the best things that encourage social media reach and interaction is to utilize the social sharing buttons on your WordPress website. If you want to know the best Social media plugins for WordPress, then take a glance over the blog article
WordPress Social Media Sharing Plugins in 2020
.
Final Takeaways
When everything is set and done, you can take advantage of the above-mentioned social media and find the right social media channel to prioritize the most for your brand.
Finally, when you make your choice of using a specific social network, you need to actively begin to share your content so that more and more people will begin noticing your business.
If you find this article a useful read, then let us know what social media channels have drawn your attention the most in the comment section given below.
Also, you can check out our other articles:
A Useful Guide for Setting Conditional Logic in WordPress forms