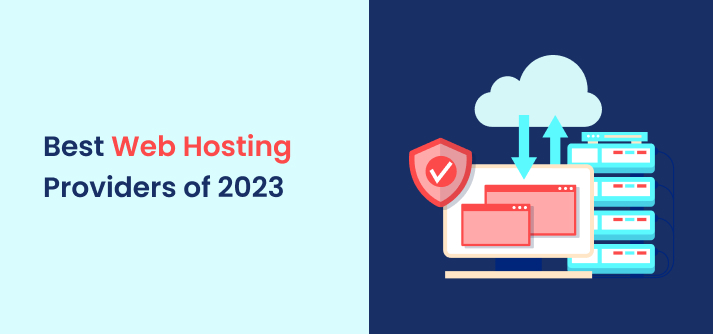 5 Best Web Hosting Providers Of 2023
Getting online is now quite easy and hassle-free; all you need to do is host your
website
using the best hosting companies.
But do you think it is an expensive deal? Well,
cheap web hosting
companies will make it affordable.
You get the support of the web hosts for your website hosting. It is the process of maintaining physical servers for your website's uptime as well as setting your website for use on the WWW (World Wide Web) of businesses.
Even building websites without technical expertise was a challenging task till WordPress was not in the game. But thanks to WordPress CMS and
WordPress hosting
providers to make online dreams true for billions.
Billions of websites are supported by the top web hosting companies, which surely is a big number to count and also the most difficult to choose, especially when it comes to choose one for your website.
Several hosting companies are available, both local and international, with the choice of various services and hosting packages, making it difficult to select the best one for your needs.
They house all your requirements, like building a blog, growing an online business or presenting your portfolio, so choosing one might take time. Some companies may provide you with enticing hardware combinations and performance at low prices, while some may offer an expanded user base and developed security threats. But again, it becomes more work to compare those feature and jot down your requirements.
So to keep your website running efficiently and smoothly with top-notch features and save your browsing time, here's a comprehensive list of the five best web hosting providers of 2023, which are not just trustworthy and reliable but are also available both globally and locally and offer value for your money.
So, take your time to read the complete article and find the best for you!
MilesWeb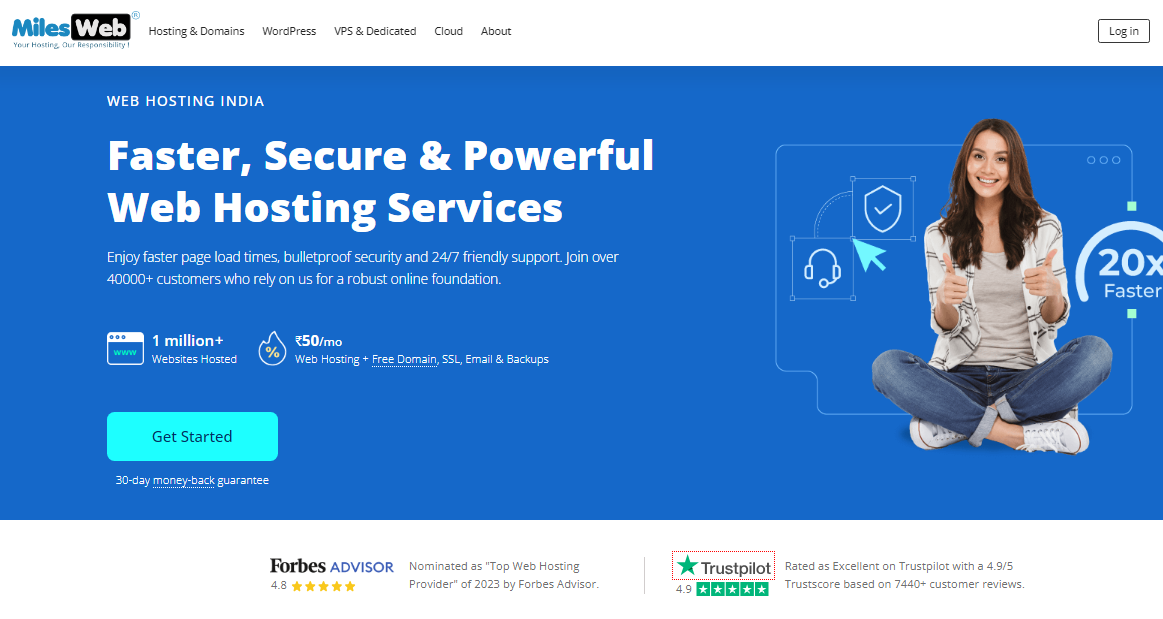 MilesWeb has an overall rating of 4.9/5.0, which is best known for its numerous scalable hosting plans for all kinds of hosting and superior customer support. The company offers a highly trained team of experts to help you at any minute of the clock.
The basic hosting plans of MilesWeb start at just $0.7/mo with a maximum website setup time of 4 minutes. MilesWeb offers 70+ web hosting plans that can accommodate each and every type of website requirement without any breakouts.
The key features of MilesWeb to check out:
Users get unlimited email accounts, secure access with SSH,, SSL/TLS certificates, and really fast page loads, all thanks to SSD storage. The company gives you the support of 28 globally spread data centres to choose your ideal fit.
The hosting plans of MilesWeb include premium features like 1-click WordPress installs, a 30-day money-back guarantee, choice-based operating panels, built-in backup support, free website migration, unmetered bandwidth, unlimited disk space, email and high-tech security to the website from security threats.
The features vary according to the plans you choose.
Liquid Web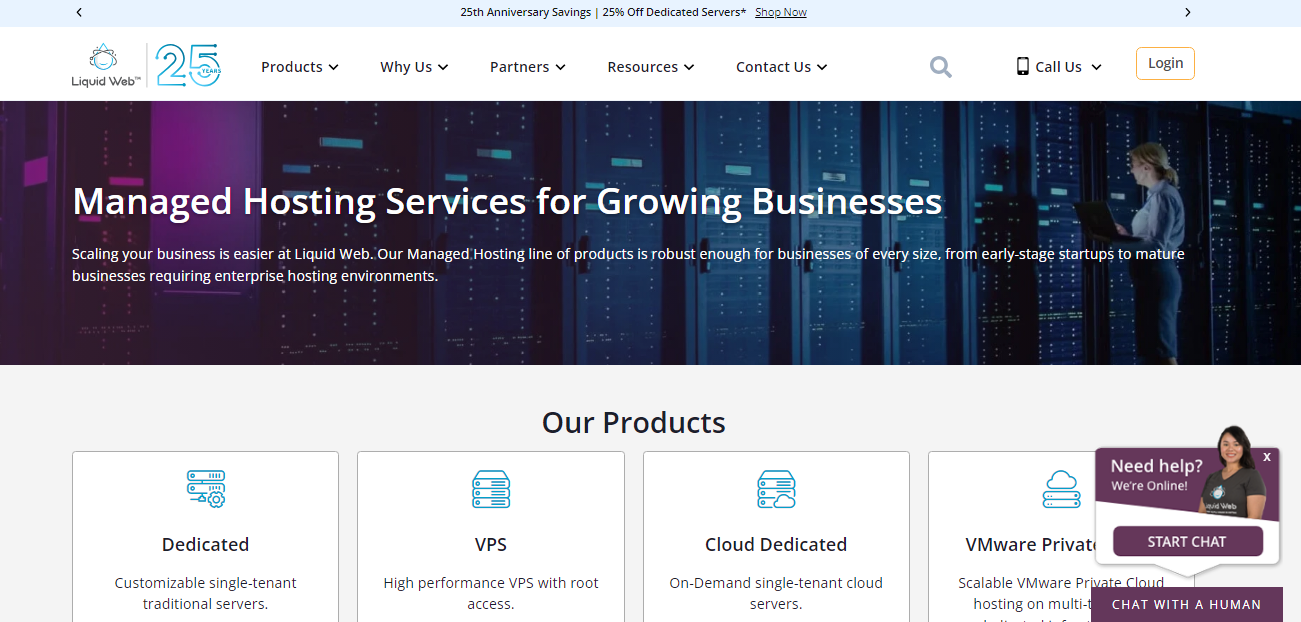 There is a 4.8/ 5.0 rating for Liquid Web, where the lowest rating is for its pricing and the highest rating is for its features, and is especially known for its high-touch managed hosting services.
The company provides it's starting plans at $15.00 with the maximum website setup time of 7 minutes. Though Liquid Web cant be stated as a cheap website hosting service provider, they offer quality service for what they charge.
The key features of Liquid Web to check out:
The company guarantees you an extreme and superior 100% uptime. That summons your website will have no/very less downtime.
They offer round-the-clock assistance, a total of five multi-tiered data centres built with all the latest market technologies. They use cPanel, InterWorx, or Plesk for Linux or Windows options, faster servers, built-in backups, 30 days money back guarantee, disk space ranging from 40 GB SSD to 500 GB SSD as per your plan, free domain name and much more.
Bluehost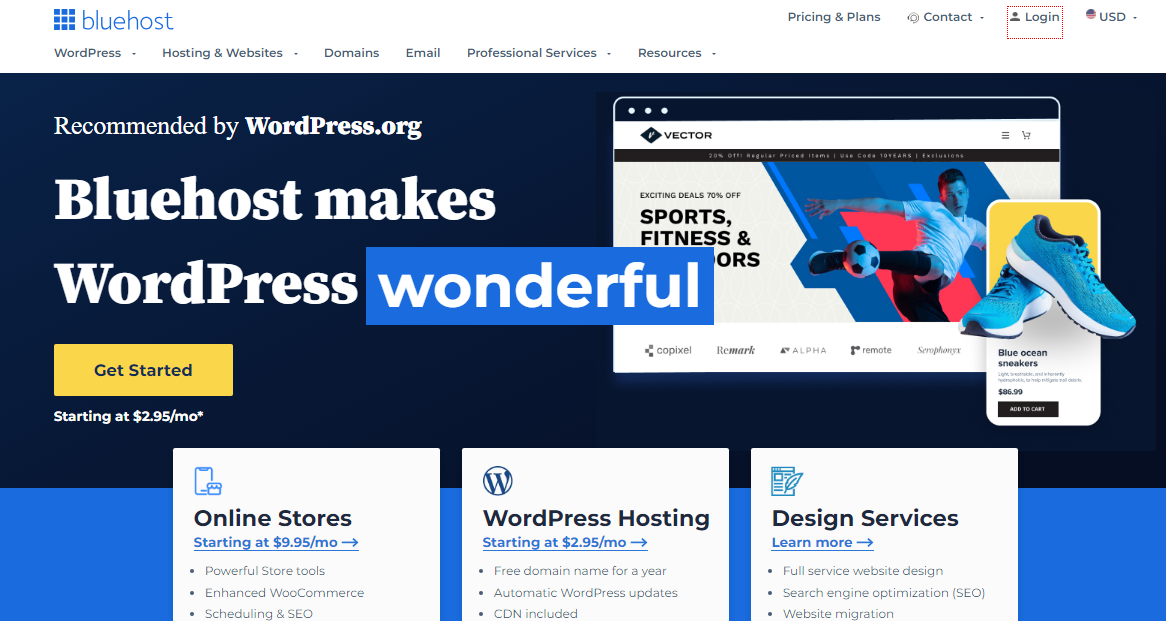 The overall rating of Bluehost is 4.7/5.0, and it is especially known for its good standing in WordPress and shared hosting services.
With its well-maintained servers and up beating rates, it gives tough competition to the other web hosts. Bluehost has the basic hosting plan starting at just $2.95/mon with a maximum website setup time of 5 minutes.
The key features of Bluehost to check out:
Bluehost hosting plans offer up to unlimited website domain and email hosting.
It has integrated 1-click WordPress installs and software updates with free SSL, a 30-day money-back guarantee, and scalable plans with 10 - 100 GB SSD disk space. They include unbeatable 24/7 customer support and high-class hosting solutions.
HostGator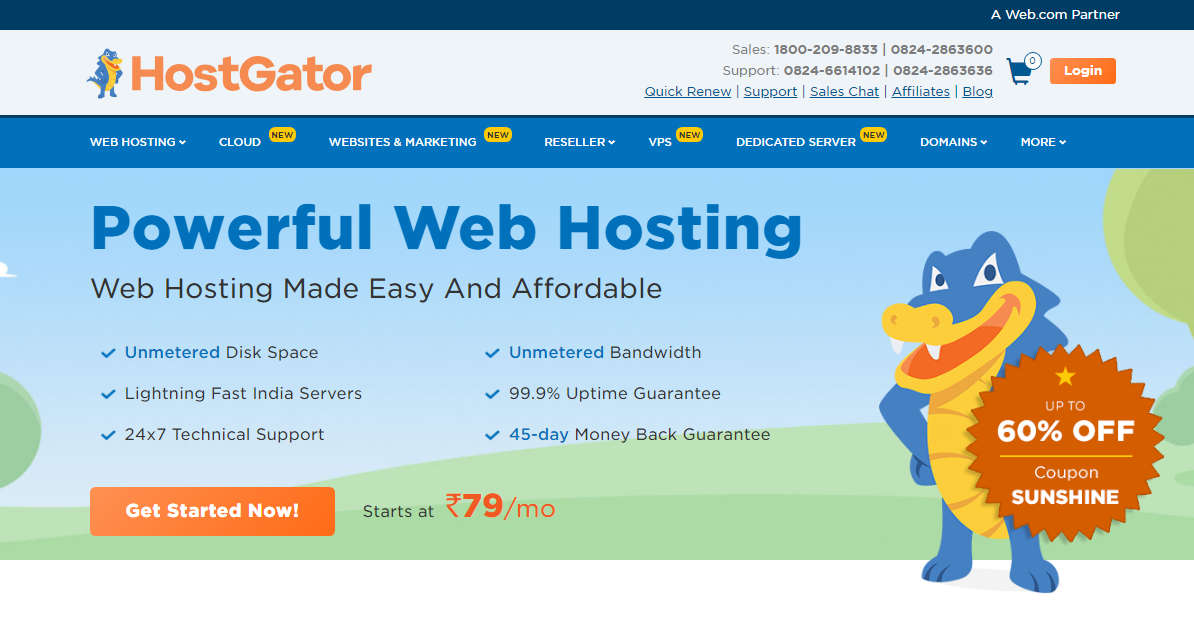 The overall rating of HostGator is 4.5/5.0, and it is especially known for continually developing new ideas across hosting platforms.
It provides a range of hosting plans, from shared hosting, cloud services to website builder services. The basic hosting plan of Hostgator starts at $2.64 with a maximum website setup time of 6 minutes.
The key features of Hostgator to check out:
Hostgator gives access to an easy-to-use cPanel control panel with a free drag-and-drop custom website builder.
You can also avail yourself of unlimited disk space, email, and unmetered bandwidth with unlimited domain registrations. Enjoy 30 days money-back guarantee and flexible contract term lengths to accommodate your needs and requirements.
GoDaddy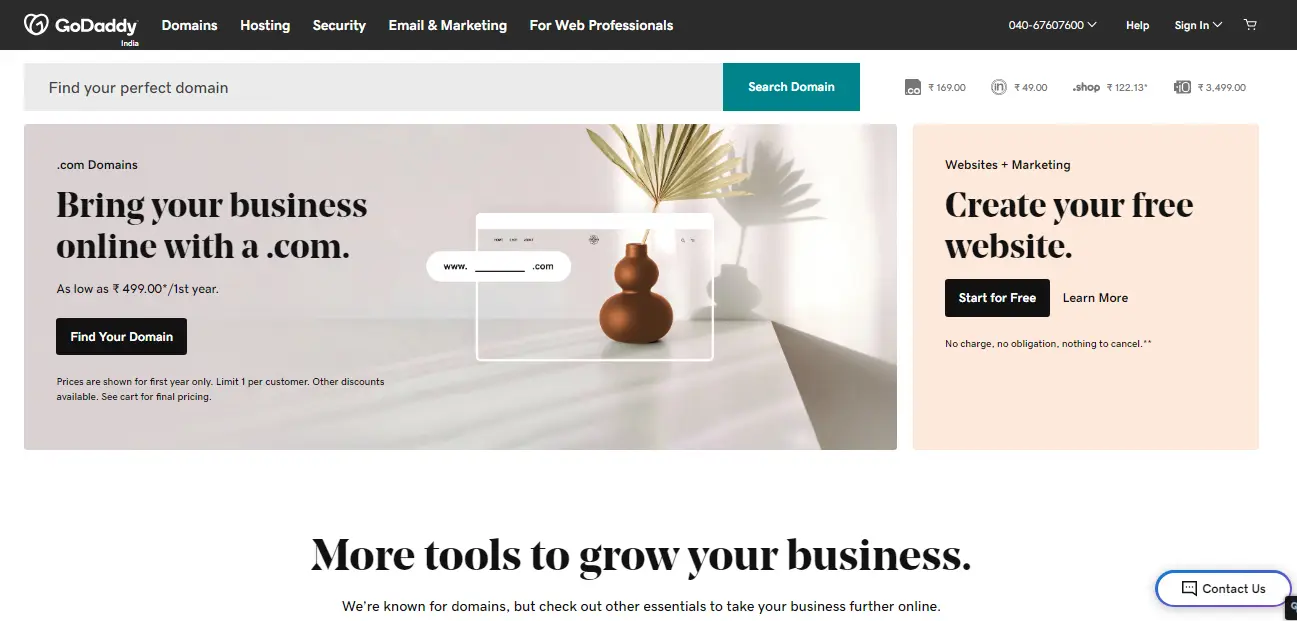 The overall rating of GoDaddy is 4.7 / 5.0, and it is especially known for its domain registrar as it has introduced innumerable site owners in the world of hosting.
GoDaddy offers an exceptionally easy process to get a domain and has different affordable virtual and dedicated hosting plans that fit the budget. The basic hosting plan of GoDaddy starts at $2.99/mon with a maximum website setup time of 4 minutes.
The key features of GoDaddy to check out:
Godaddy is recognised for its leading load times, guaranteed 99.9% uptime, excellent support team and updated security. It offers 30 days of money back so you can do the test trial of their services. GoDaddy compliments with a free domain name for one year with all its plans.
What's the conclusion?
The above-mentioned website hosting companies are the best web hosting companies of 2023. However, when choosing one, you can go with the serial order of their description.
We have arranged them serially, by considering the overall performance. MilesWeb stands at the top with the best budget, varied hosting options, and numerous features to make your
hosting experience
the best. For more details, you can their respective website.
I hope this article has saved you precious time and given you a good insight. And If you enjoyed this article, there are plenty more informative ones you can explore: