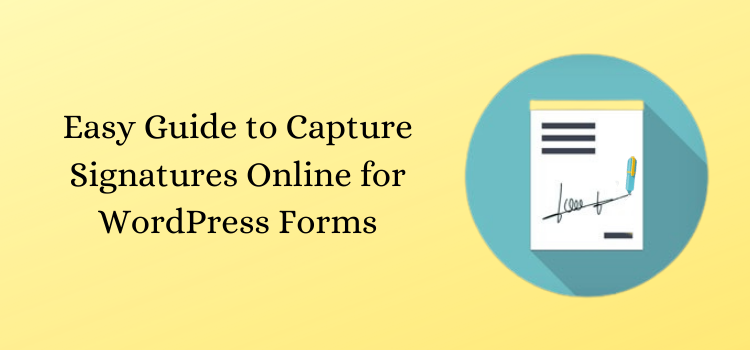 An Easy Guide to Capture Signatures Online for WordPress Forms
As far as the WordPress webmasters are concerned, they are surely looking to have some sure bet way to acquire more number of customers through their WordPress website.
If you are running a WordPress website where your business concern is to make your clients or customers sign an agreement contract, then you would require to have an E-Signature accepting WordPress form on your WordPress website.
Showcasing one of its kind capture signature online WordPress form is a surefire way to have it on your WordPress website.
If you are looking to show a Signature form on your WordPress website that allows you to accept the Signatures via your WordPress forms, then you have come to the right place!
Luckily, a Signature WordPress form on your WordPress website can save your quality time as it tends to reduce the paperwork between you and your client or customers.
On the bright side, a signature WordPress form can help you to get your client's personal information when you create a high-end form that can capture any business information from your clients.
As we are exactly going to teach you how to capture signatures online through the WordPress form!
But, first, let us understand the importance of capturing online signatures!
What is the Importance of Capturing Signatures Online?
For a long time, signatures have been and still play the most vital role in verifying a party while making they make the transaction.
On the other hand, as signatures tend to bind legally, they keep sure about the security while you are making a deal with your client or a customer.
If you got to do it manually, then the complete process of submitting documents back and forth via email can be cumbersome, consuming a whole lot of your quality time.
That would be an old fashion way to deal with your clients and customers as the manual contract signing method requires a lot of fuss like signing documents, printing documents, scanning the documents, and emailing.
So, what should be the best way to tackle that?
The simple and straight solution for that is with the use of E-Signatures. E-Signature can be any image, symbol, or sound that is attached along with the documents as well as with the contact form to verify clients.
This means, instead of getting everything set and done through pen and paper, the online signature can let your clients easily sign documents through your Online signature WordPress form.
Reasons why you need to Capture Signatures Online?
As described earlier in this article, to save the users time and to provide them with a more professional experience. Here are some reasons you may need to know to capture signatures online.


You may want to have the business contract with your client or maybe a non-disclosure agreement, or any other type of contract. Hence, an electronic signature at the bottom of your form will have definite evidence of the specific contract agreement.


Whether you are a non-profit business or if you are a small, mid-size business, an educational institute, then you will need to request a Signature form that offers an electronic signature option. For such businesses, your customers may want to apply for loans or university courses. All such forms require a signature capture option.


The legit online petition requires a signature to be submitted to verify the form. Hence, with ARForms Signature Addon, you can quickly accept and save electronic signatures to validate your petition forms.


As for the WordPress users, the e Signature integration can be quite easily done with the usage of WordPress form builder plugin like ARForms Signature Addon.
Further, when it is about adding the Signature field into your WordPress form, then you can easily do it with the use of ARForms Signature Addon.
Here in this article, we will take you to step-by-step ways for creating a Signature form with the use of ARForms Signature Addon.
How to Create a WordPress E Signature Form with ARForms Signature Addon
First off, you need to download and install the ARForms WordPress form builder plugin on your WordPress website in which you want to display and showcase the Online Signature WordPress form.
We recommend using the premium version of the
ARForms WordPress form builder plugin
to get access to the advanced level features.
Further, let us jump to the steps for creating the WordPress Signature form by adding a signature field to your WordPress form.
How to Add the Signature Field to your WordPress Form
After you complete installing the ARForms WordPress form builder plugin, you will then need to start creating a WordPress signature form.
The ARForms Signature Addon
The
ARForms Signature Addon
lets you quickly capture signatures on your WordPress forms. This is simply done with the use of the signature field so that when your WordPress signature form goes live, your customers can then easily insert their signature while they submit the form.
Interestingly, the ARForms Signature Addon lets you capture signatures on your WordPress forms faster as an online signature pad is shown on your form that allows users to sign their name either using the click of the mouse or with the use of the touchscreen device.
On the flip side, the ARForms signature addon integration works best on all devices with all the browser supports (Chrome, IE (Internet Explorer), Firefox, Safari, Opera, and many others) as well.
We will take you to the step by step methods to create and build a new Signature form from the beginning.
Step 1: Activate the Signature Addon for ARForms
The first and foremost thing you would require doing is to
Activate the Signature for ARForms Addo
n. You will need to go to the ARForms> Addons section from your WordPress dashboard.
Further, you need to scroll down to the
Signature for ARForms
Addon and click on the Activate button over there.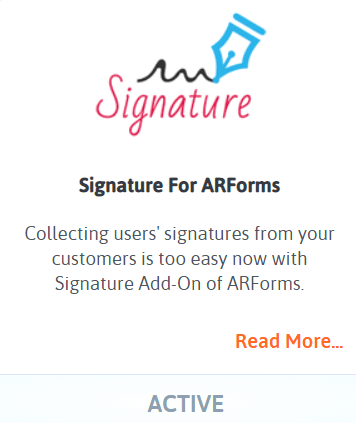 After you click on the Activate button, you will then be able to see the Signature field option while you will create a new Signature form on your WordPress website.
Step 2: Creating the Signature WordPress Form
For that, you will need to navigate to the ARForms> Add a New Form to create a form from scratch. Either you can choose the pre-defined templates by selecting the Templates radio button that will let you select your desired WordPress form templates, else you need to create a Signature form from scratch, then you need to select Blank Form.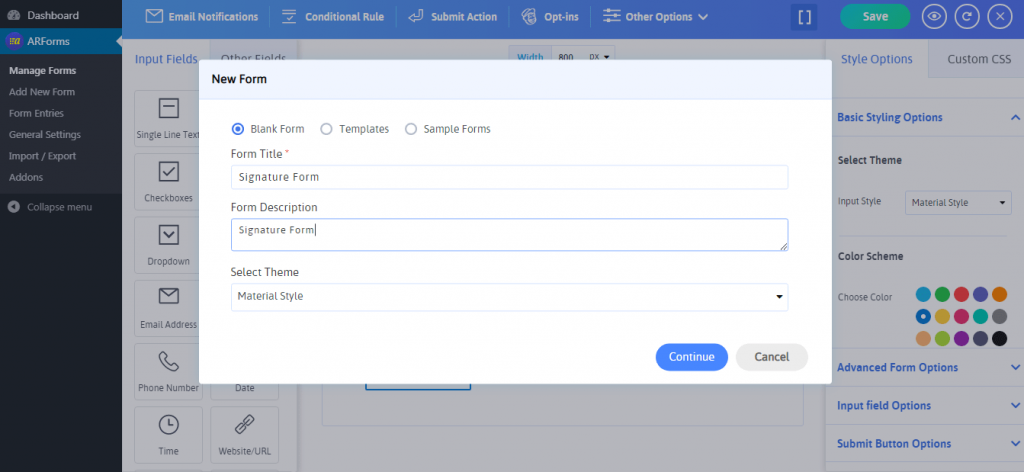 When you click on the blank form further by clicking the continue button, you will be able to see the new screen that will showcase you with various form elements. ARForms WordPress form builder plugin provides you with more than
30+ form field elements
on the left-hand side of the form builder.
You can easily select any form fields smoothly with an easy drag and drop option. You can select the form fields like Name, Email, Subject,
Message Box
, and even asking your consent for the agreement permission before adding the Signature field option into your WordPress form.
Let us have a look at the image below for how to place the
Signature field
option easily with a simple drag and drop option.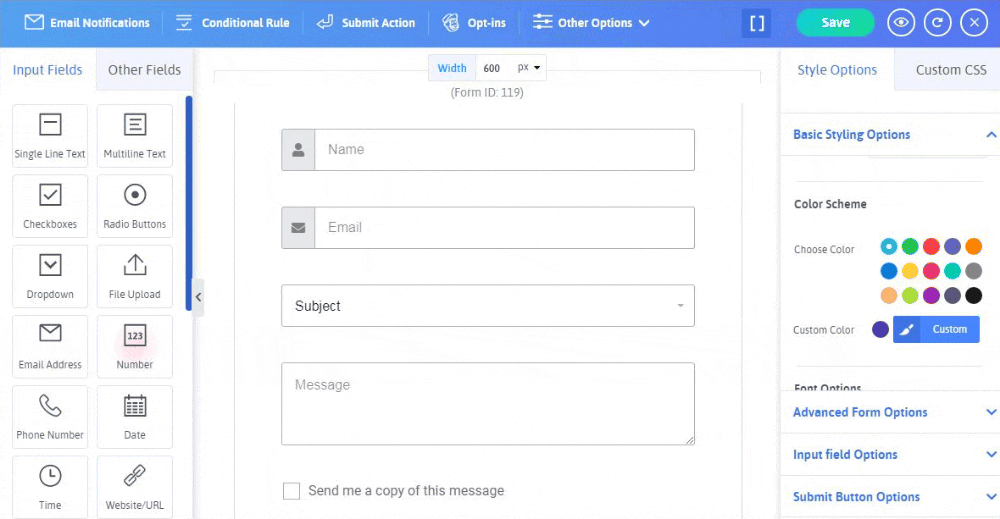 Step 3: Showcasing Signature Field Only When Client Accepts the Required Consent
Next, you can even add and show the form of consent to your customers with a multi-choice question by adding the condition to show or hide the Signature Field.
Let's say, for instance, whenever a client or customer agrees with your consent question like,
Do you agree with the Terms and Conditions?
Then, the Signature field will only be visible if the client/customer accepts the terms and conditions by clicking
Yes
.
Let's check out how it works with the image given below!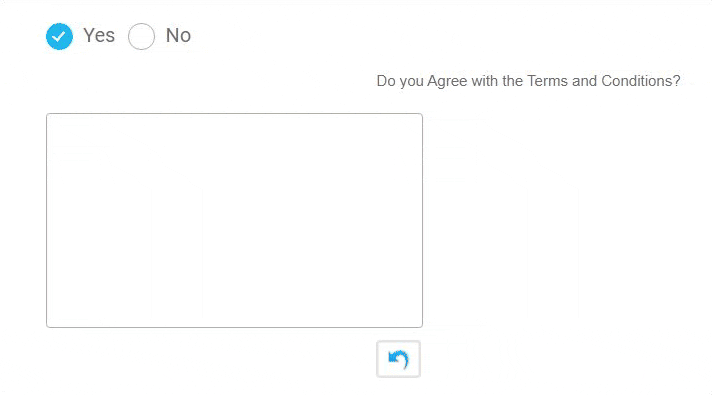 The above-mentioned consent thing is made possible with the use of the Conditional Rule that you can see on the top side of the form builder. Have a look at the image below: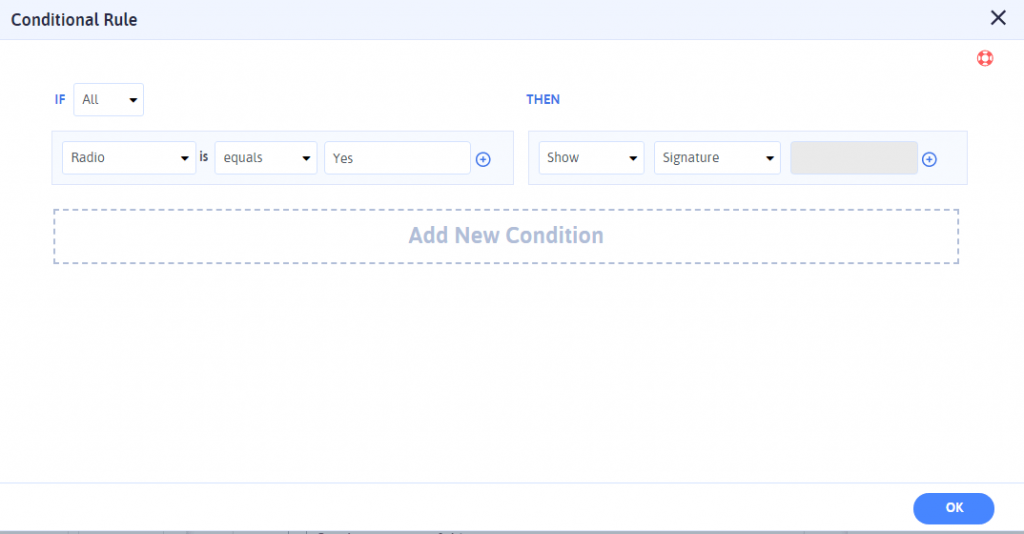 Step 4: Clear Signature Option for the Clients
In the end, when your WordPress Signature Online form is live on your WordPress website. When your client or customers are ready to fill the form by accepting your consent.
At last, while they are signing their signature, it might be possible that they might make some mistakes while signing.
So, to overcome that, your clients or customers can easily clear the signature by click on the Clear button that is placed on the downside of the Signature field.
Here is the image that shows the Signature field with a clear button: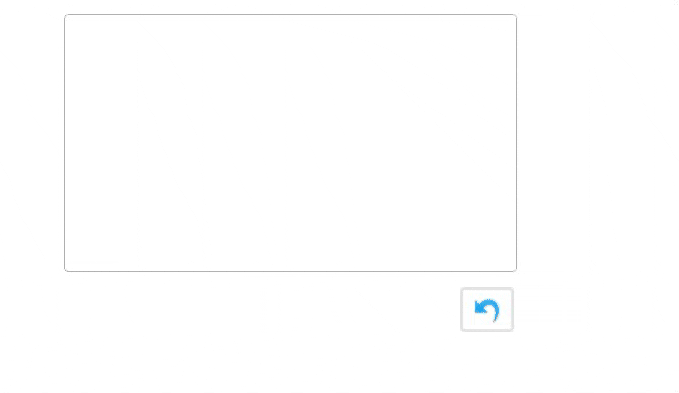 Final Wrapping
That is all we have got for this article! After going through this article, you will finally be able to effectively accept the signature from your clients most effectively and quickly!
If you found this article an informative and insightful one, then do share it in your network with your friends and people in your group.