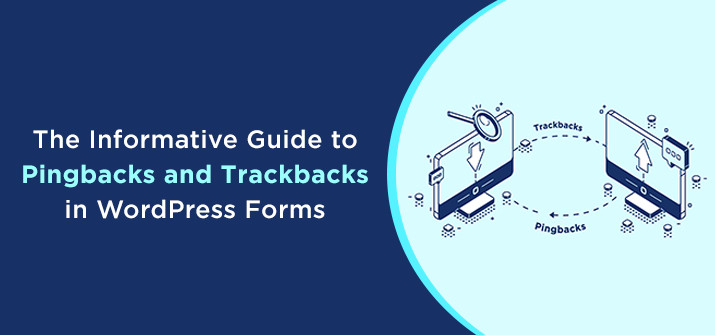 The Informative Guide to Pingbacks and Trackbacks in WordPress
In the vast world of blogging where many webmasters use the WordPress CMS to carry on with their blogging stuff, most might have heard about the terms Pingbacks and Trackbacks in WordPress.
With that being said, there are many WordPress site owners that may have not heard about the Pingbacks and Trackbacks. If you are one of those who are still confused with both these terms, then you have come to the right place as many users are still looking to get an acknowledgment about Pingbacks or Trackbacks and want to learn more and more about it.
Here in this article, we will drive you through all the things you need to know about pingbacks and trackbacks and in a guided way.
So without any further more delay, let's jump straight to the points!
Introduction of Pingbacks and Trackbacks
The first and foremost thing that we need to mention is to define both these terms Pingbacks and Trackbacks and show you how even being similar there is still a bit of differentiation between both!
What is Pingbacks in WordPress?
Generally, pingbacks are the features in WordPress that are in general a more appropriate version of Trackbacks.
In short, Trackbacks are used to send with the manual method, while pingbacks work in an automated way.
The pingbacks are directly sent to the site you linked to when you have a pingback set up on your blog, and as long as the site that you have linked also has the pingbacks enabled.
Having said that, the site that you have linked to would automatically verify, whether or not the pingbacks are certainly from your side and not from some spammers.
What is Trackbacks in WordPress
When you link an external site in your content, a notification that is sent to that external site is what is known as Trackbacks.
Let's say, for example, you have published a recent blog post with some useful tips that include a link to the blog article that displays some advanced tips and more useful advice for your readers.
Now, in this case, you can send a Trackbacks ping to that website to draw the owners attention towards your article that mentioned their site link.
This way, you can have a fair chance to show an excerpt of your blog and your site link directly on their comment section.
In short, this is similar to one website owner saying to another that "This is something you might be interested in".
How Pingbacks and Trackbacks do help you to increase your WordPress blog traffic?
With the pingbacks and trackbacks, you are sending a link that drives to your blog post. This way, you can make the presence of your blog article on some other blogs which will ultimately help you to
boost traffic
and improve the SEO.
Having said that, pingbacks are the best way to get traffic for your site even if your link used on the other website is using a "
No Follow Tag
".
Difference between the Pingbacks and Trackbacks


One of the major differences between the Pingbacks and Trackbacks is, while pingbacks are sent automatically by the WordPress, Trackbacks still need to be sent manually by entering the Trackbacks URL.


Pingbacks doesn't send any content part to the source blog article site, while the Trackbacks sends the excerpt of the content.


Based on each theme and appearance, Pingbacks can be styled vividly, whereas Trackbacks need to be created manually.


Pingbacks do not require both the sites to be pingbacks enabled while the Trackbacks require both of the sites to have the trackbacks enabled.


Pros and Cons of Pingbacks and Trackbacks for WordPress website
Pros of Pingbacks
There are many benefits of pingbacks that are similar to the trackbacks, but the pingbacks have some more of them such as:


It can help you to build and improve your SEO (Search Engine Optimization) efforts as you are posted as a comment on the other article post and even notified for the link you gain.


With pingbacks, you have a higher chance of getting connected with the other articles and bloggers as well.


Pingbacks will help you to increase your reader's and visitor's traffic.


Cons


Sometimes with the automatic pingbacks, there remains a chance of spammy links.


As the pingbacks are automatic, the comment section of your website can get filled with a lot of pingbacks that may require time for moderation.


Most of the WordPress blog owners don't get into them


Pros of Trackbacks
Here are some advantage of using trackbacks:


Enabling the trackbacks can help you overcome your content being stolen and being published somewhere else.


A possible increase in the traffic and links as trackbacks is shown under the article and in the comment section of other sites. This way, you can have a fair chance of driving that site's traffic and visitors to your site.


Cons of Trackbacks


As Trackbacks are sent manually, it will take a lot of your quality time to send them to the blogs of your choice.


Trackbacks can be sent manually to any WordPress website that accepts them, this may lead to online spamming that want to increase their own SEO but in turn, can harm yours.


Why disable automatic pings for the WordPress Site?
One of the reasons to automatically disable the pingbacks, trackbacks, and self pings is due to the continuous spammy trackbacks and pingbacks.
For doing so, you need to navigate to the Settings from your WordPress Dashboard, after clicking on the
Settings
, you need to select Discussion i.e
(Settings> Discussion)
.
When you are at the Discussion Settings window, you then need to
uncheck
the option
"Allow link notifications from other blogs (pingbacks and trackbacks)
on new articles".
Have a look at the image given below: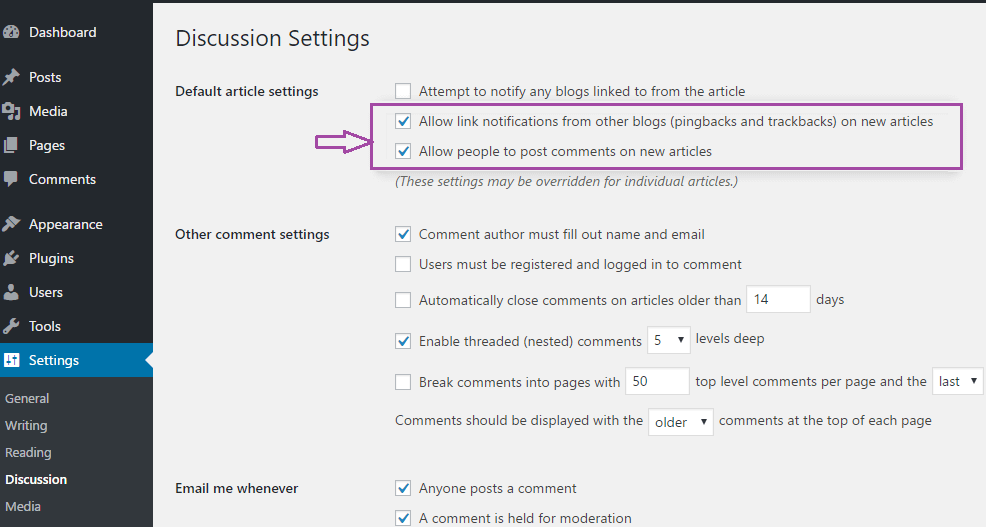 If the box is checked and selected, then you are allowing your WordPress blog comments on every new post.
Click here to
Know the Right Social Media Platforms for WordPress Website 2022
Wrapping Up
In the end, after going through this article about the Pingbacks and Trackbacks in WordPress, you may find it easier to connect with the blog owners and their readers.
Tell us your thoughts or suggestions if any in the comment section below. If you think this article is a good read, then do share it on social networks.