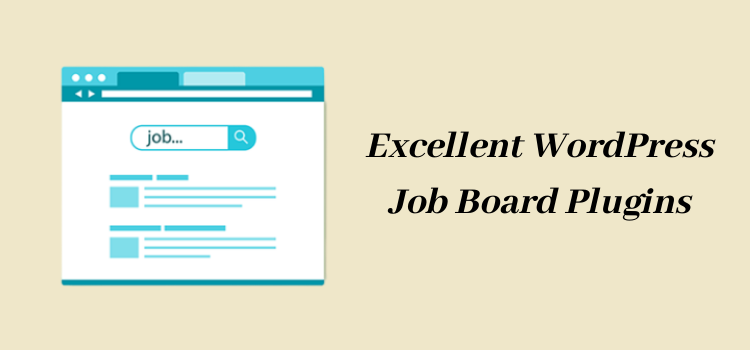 6 Excellent WordPress Job Board Plugins for 2023
Job listings are becoming more eminent as more and more applicants want to apply for the job online to the most suited organizations.
When it comes to job seekers, they are searching on the job listing websites, especially in this pandemic time!
WordPress being an ideal CMS platform for creating job boards, If you are looking to create and add your job board to your WordPress website where employers can post the jobs and in turn, the candidates can easily apply for the jobs by submitting their job application, then you need to make sure for using some top-class WordPress job board plugins.
With the use of the best WordPress job board plugins, you can manage your job listings, allow job seekers to apply for jobs by submitting applications, maintain users and company profiles, resumes, cover letters, and much more!
Advantages of the WordPress Job Board Plugins
First off, with the use of job board plugins for WordPress, you can get benefits to get more earnings with your WordPress website by allowing organizations and employers to post on your website.
On the other hand, with the use of the WordPress job board plugins, you can save money to hire a professional developer that requires manual coding stuff.
Moreover, with WordPress job board plugins usage, you can gain more traffic when visitors know about your job listing WordPress website.
Further, if you are among the employers who are in search of professional employees, then you can easily get your job done by acquiring better talents with this excellent job board
plugins for WordPress
.
So, here in this article, we are going to cover the most effective WordPress job board plugins that can help you to reduce the bottleneck of managing and maintaining the above-mentioned job board things in a hassle-free manner.
Let's get started!
Excellent WordPress Job Boards Plugins list
Simple Job Board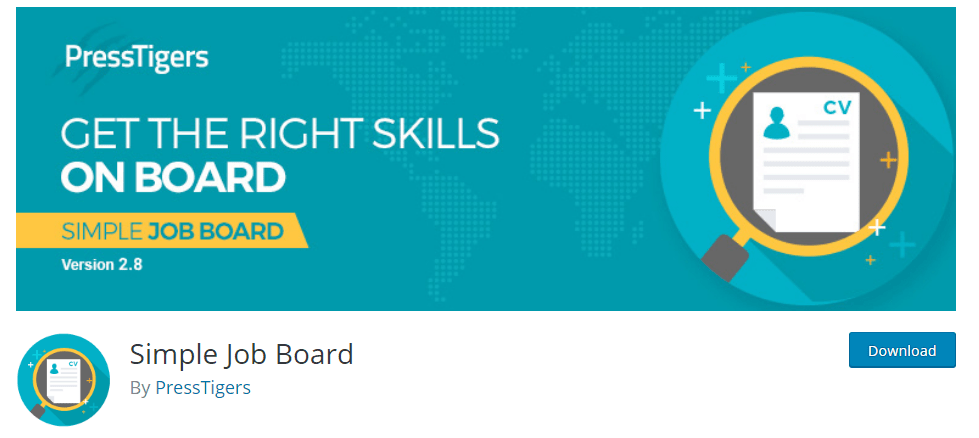 Simple Job Board
is a light-weight and user-friendly job board plugin for WordPress by PressTigers that can help you .add a job board easily to your WordPress website.
This awesome plugin is simple and easy to use and comes with plenty of features with customized options for adding multiple job listings, application forms, job boards, and more.
Effective features of Simple job board WordPress plugin:
Allows you to add jobs, categorize the jobs, and manage all the listed jobs with the use of Granular WordPress user interface
Provides facility to add job types in job listings to job listers
Facilitates you to add job location for an individual created job
Allows you to make use of the shortcode to add job category, job location, and combination of multiple shortcodes for a job listing on any post.
Offers you to make use of Anti-hotlinking option for the advanced security of documents
Enables you to see the job applicants who applied for a particular job
Interestingly, this plugin lets you receive the application form filled by the
job applicants from
the front-end of your WordPress website to view it directly in your dashboard. Plus, it allows you to add the special notes to an application by opening its detail page
Pricing:
This plugin is absolutely free to download from wordpress.org plugin repository
WP Job Manager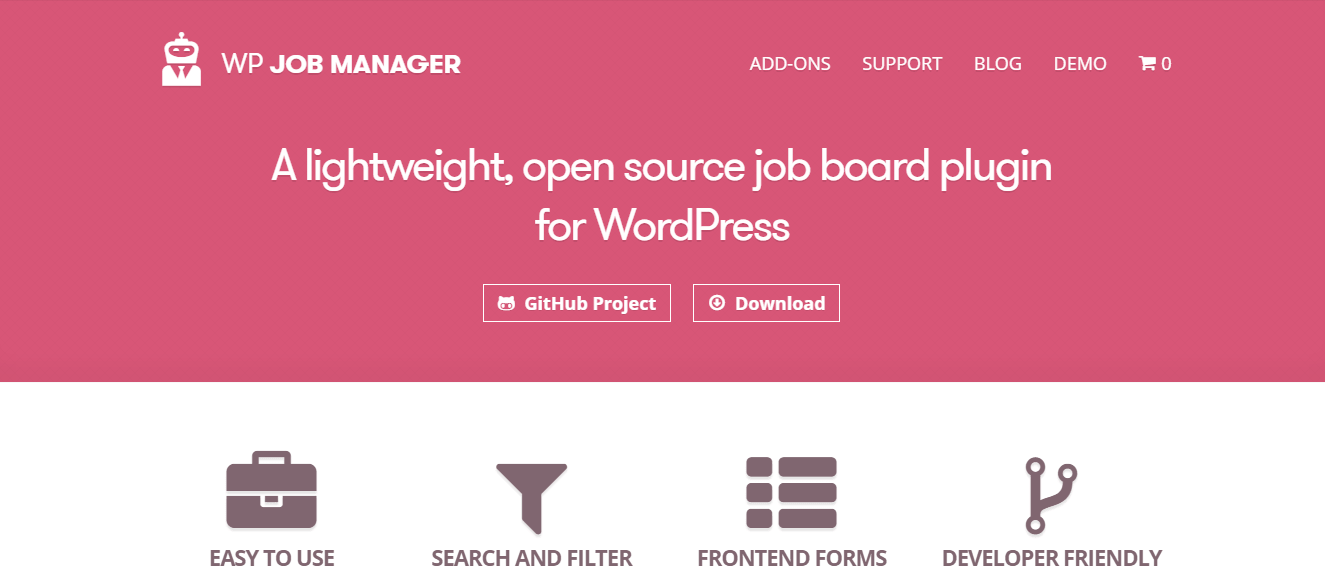 WP Job Manager
is yet another light-weight job board plugin that allows you to add job board functionality to your WordPress website.
The beauty of this outstanding is the ease of use as its WordPress UI (User Interface) will let you list jobs in an organized way with the company and job information.
Key Features of WP Job Manager:
Allows you to get access to edit, search, mark filled, delete, and filter functionality
Makes it easy for you to add, manage, and categorize job listings with the use of easy to use WordPress UI
Provides facility for the front-end forms for employers to manage and submit their job listings
Offers you to preview the job listing from the same screen before it is live on your WordPress website
The search option allows the job seeker to display the RSS links to get alerts of the new jobs that match their search
Applying shortcodes to your pages for ajax powered job listings that can be searchable and filterable
Further, if you want to have extra value-added features and functionality, then this plugin offers the Add-ons for you to extend even more features other than what the core plugin facilitates.
Pricing:
This plugin is free of cost to download.
WPJobBoard

WPJobBoard
is an all in one WordPress job board plugin that is specifically meant for recruitment agencies, web developers, entrepreneurs, and bloggers.
Moreover, this plugin gives you the ability to manage the job listing, employer portal, applicant tracking, job boards with a job description, and more.
Best of all, this best in the class plugin can help you to improve the SEO, seamless job browsing, advanced job searching options, and many more customization options.
Have a glance at the impressive features of the WPJobBoard job board plugin for WordPress
Ability to easily manage job listings, browser job applicants, control user resumes, employer and employee profiles from the WordPress admin UI.
Provides options to add multiple job type and categories that can help job seekers to find the type of jobs depending on the category they are looking for
Allows you to create your custom email templates for email notifications
Ability to provide the candidate dashboard to the registered candidates so that they can easily upload and update their resumes
Facilitate the paid job listings and resume access
Allows to link the job aggregation websites like CareerBuilder, Indeed, and LinkedIn with the use of APIs into your job boards.
Easy integration of popular payment gateways like PayPal and Stripe
It uses Schema.org markup in the Job description for boosting SEO. Even it provides the facility to level up your social media marketing as it automatically adds texts and images from the job post when people share them.
Plus, if the candidates are looking to create their resume, then this awesome plugin allows them to create resumes from the "My Resume Form" option. Even if you want to earn extra bucks, then you can charge companies and employers to access the full resume details through PayPal and Stripe.
Pricing:
This plugin premium plan for its personal license starts from $97 / Year for a single website usage (1 Year of Updates and support available)
JS Jobs Pro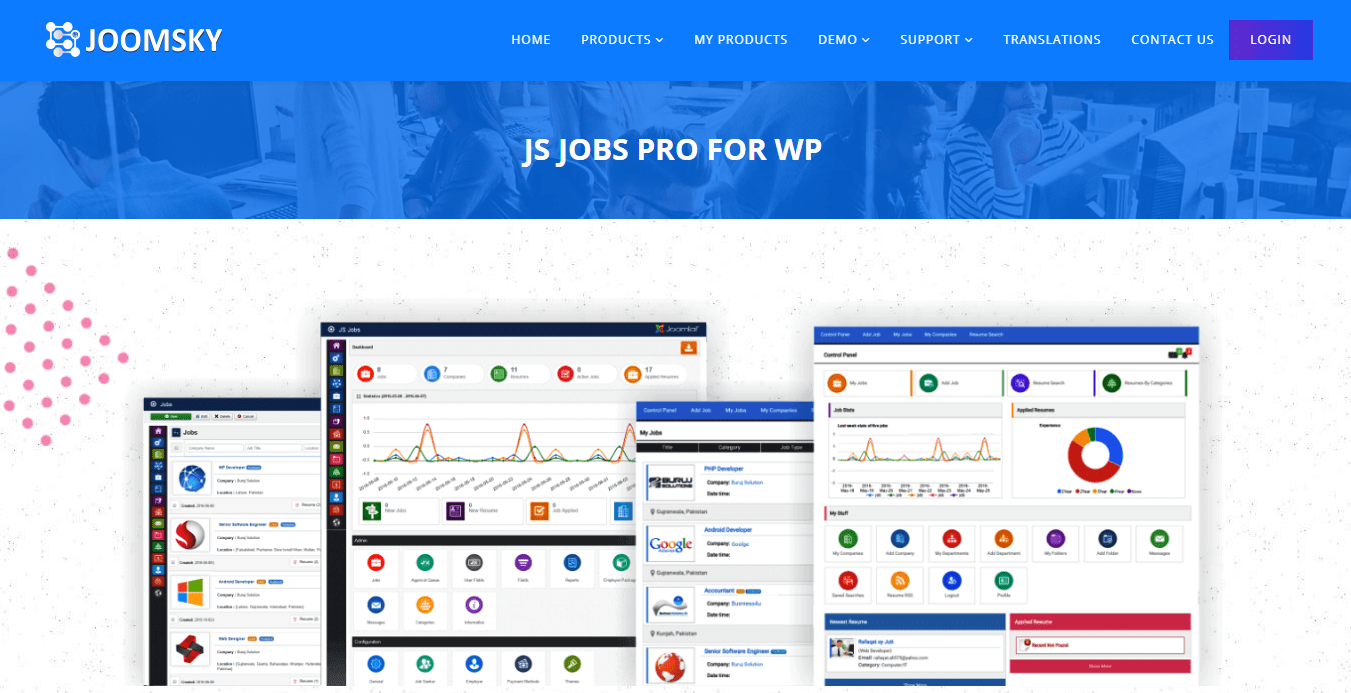 JS Jobs Pro
is a powerful job board WordPress plugin that can help you to create and run a complete job website for WordPress.
With this amazing plugin, you can get the advantage of multiple job options such as to add a job, shortlisting job, sharing jobs, and many more functionalities.
Key Features of JS Jobs Pro:
Resume builder to let you create the resumes
Allows the dashboard for job seekers and employers
Provides the facility for the social login
Facilitates the option for Search Job, and refined search based on the job type, jobs by city, and jobs by category
Shows the applied resumes for specific jobs
Job seekers can subscribe to getting job alerts
Multiple actions on resume options like viewing, messaging, taking the print, and to export resume
Messaging system where both employer and job seeker can communicate with each other
Allows the option to make your job "Featured Jobs"
Easy integration of Google Map through API
Provides the essential reports for jobs, companies, and resumes
Allows unlimited colors, various fields options, and customizable email templates.
Pricing:
This plugin basic plan starts from $79 for a single website usage
Job Board Manager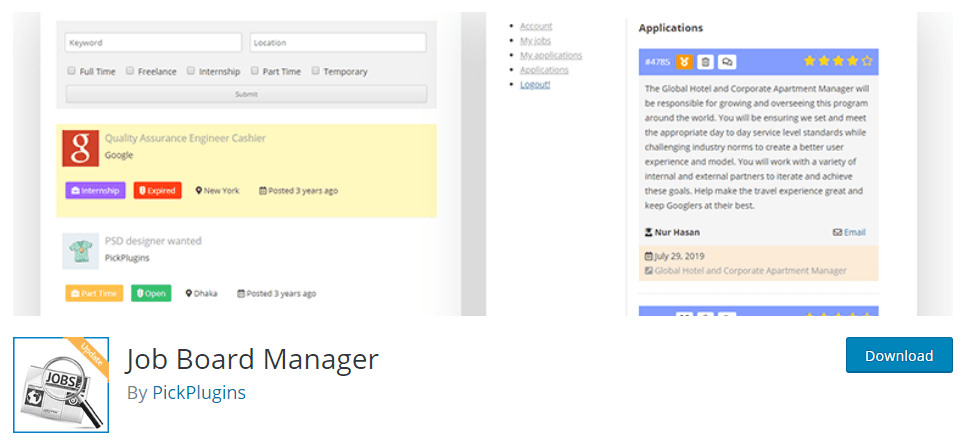 Job Board Manager
is an easy to use job board plugin for WordPress that can be useful for creating job websites for WordPress.
This is a superb plugin that can be used to create and manage jobs within a few clicks and the best part is that there is no need for coding skills required from your end.
Let's have a look at its useful features:
It allows you with the account dashboard based on tabs and content
Provides the shortcode to show job submit page, account page, job archive page, logged in the user job list and more
Optimized for SEO with Schema.org markup
Allows you to add custom input fields under registration forms
Offers you to see the job application, star rating facility, hire applicant, email communication, displaying attached resume in the job application, and more
Provides 11 ready-made email templates, also to add custom email notification
Pricing:
This plugin has both free and premium versions. Its starter plan starts from $149 / Year for a single website usage (1 Year of updates and support available)
WordPress Job Hunter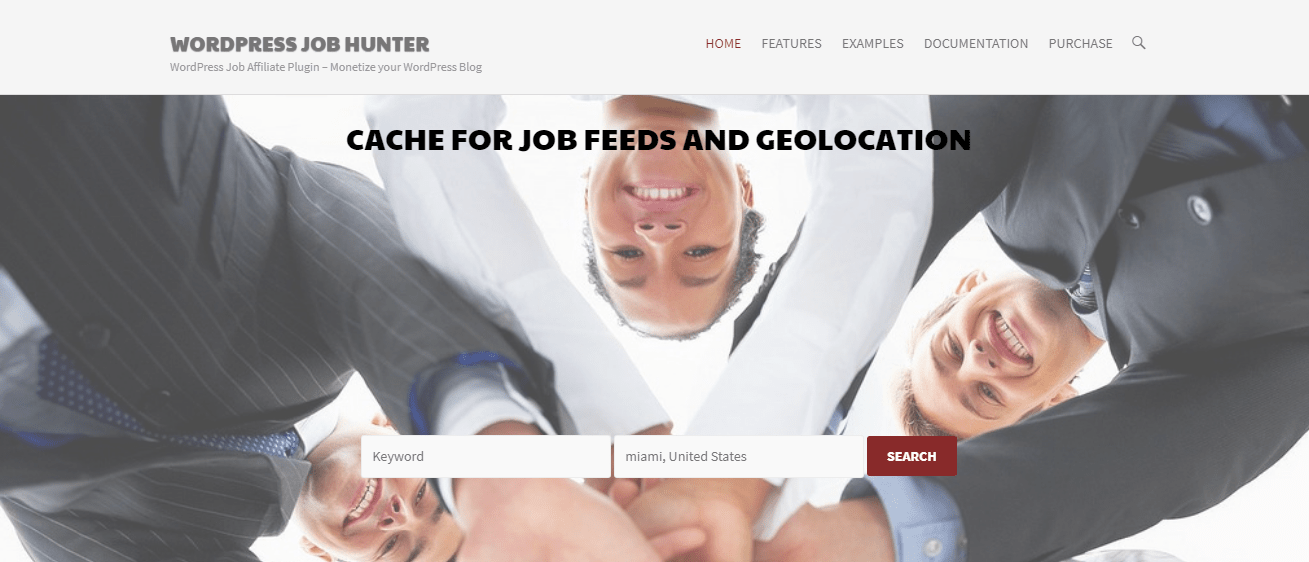 WordPress Job Hunter
is a feature-rich WordPress job board plugin that can help you to show jobs along with having the ability to monetize your WordPress website with job affiliates.
With this excellent plugin, you can easily separate the job posts into your own created categories. This plugin is simple and easy to install and run on your WordPress website.
Key Features of WordPress Job Hunter:
Allows you to show the job location with Google Maps on the job post page
Supports Indeed, CareerJet, SimplyHired, ZipRecruiter, and authentic Jobs Feed
Facilitates you to add separate keywords and locations for the widget, and posts
Provides one-click Facebook like and share button
Creating custom categories with keywords
Offers fully responsive widget and is cross-browser compatible
Customization options for custom search fields, pagination, and templates
Stats that shows the total number of jobs, top 50 viewed jobs, and last 50 viewed jobs
Pricing:
This plugin can cost $30 for its regular license from the CodeCanyon marketplace
Final Thoughts
Finally, the use of the right kind of WordPress job board plugin that fits best for your business would be the sure thing for you to consider.
Please share your thoughts and ideas and your takes in the comment box!