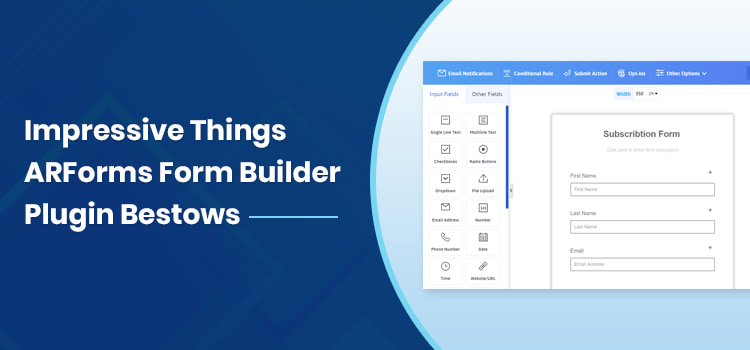 9 Impressive Things ARForms WordPress Form Builder Plugin Bestows
Does building
multi-purpose forms for your WordPress site
scars you off?
You might be a skeptic who's just looking to get an ultimate solution that perfectly fits best to build any type of form!
You need a more Sustainable solution that works for the long term!
At some point, rather than basic level forms, you may require advanced and more powerful forms for your WordPress site.
But, What if you are a WordPress site owner who is a non-tech person looking for more advanced forms?
It can take a fair amount of work from your side!
Instead of hiring an expensive coders team, it's better to opt for something more reliable and more affordable that can facilitate you to build any kind of form without any hassle of coding knowledge.
That's where
ARForms WordPress form builder plugin
comes in, having the capability to build multi-purpose forms for your
WordPress site
.
Here in this article
, we are going to drive you to some of the amazing things you can do with the use of ARForms WordPress Form Builder Plugin.
Let's dig it out!
Allows to Showcase some Quiz for Promoting Site
Quizzes are a new way to attract visitors to your site. It can be used to get a higher engagement rate.
Quizzes form lets you select an answer by showing the drop-down, radio button option, or the checkbox where you can tick the answers from the given option for a particular question.
With ARForms WordPress form builder plugin, you can build any type of quiz contest to engage the visitors on your site.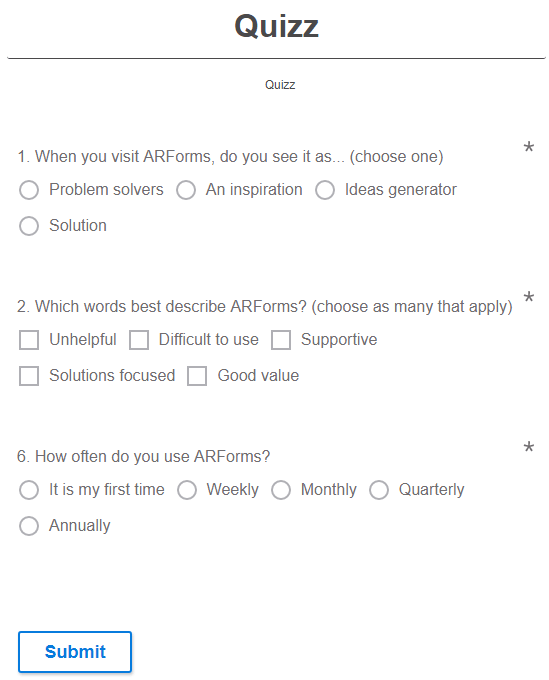 Conditional Logic and Mathematical Calculation
Another useful feature that can help you to draw your site visitor's attention is
conditional logic
and mathematical calculation.
With
conditional logic
, you can let your visitors choose the things they require. Say, for example, if you offer a men's shirt and women's shirt both categories, to ease up the selection, visitors can just select any of the categories like a men shirt or a women's shirt and the form shows them the shirts for the selected category.
Have a glance at the below-given image.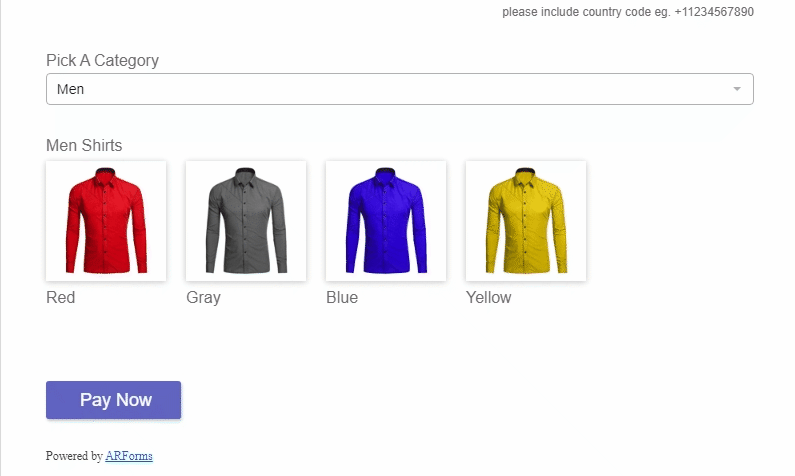 Mathematical Calculations
can be used to get the total amount of the selected piece of item, also used to get the total of varieties of listed items in the form.
Have a look at the category products example given below.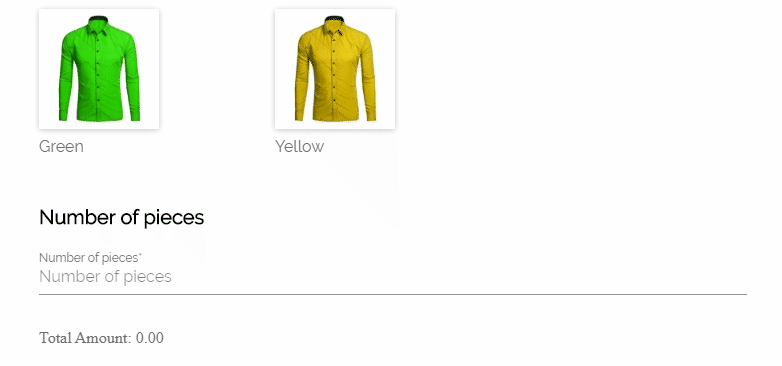 On the flip side, if you want to include tax deduction than you can easily set formula inside the "field option".
Offering Survey to collect feedback
The use of survey forms can let you know what a user is looking for when they perform a survey. You can know things like what kind of features a user might be looking for on your site.
That will give you a fair chance to improve your product/services accordingly.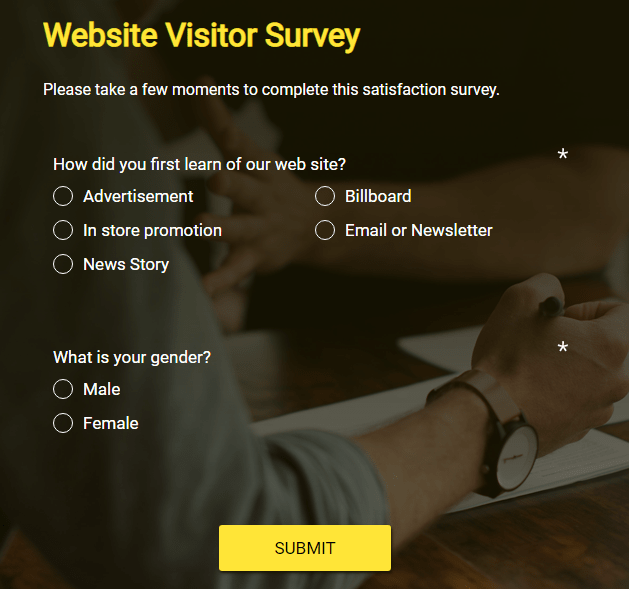 Post Creator Integration
Are you excited enough about allowing the users of your site to publish a post where they might have the option of creating a post? In such a case, the ARForms WordPress Form Builder plugin facilitates integration with the
post creator
Add-on.
The post status can easily give you an idea of whether your created post is published, is on Draft or pending review.
Doing so will make sure that your user-generated content is of High-Quality and in line having useful content that is engaging and users can find it more worthy.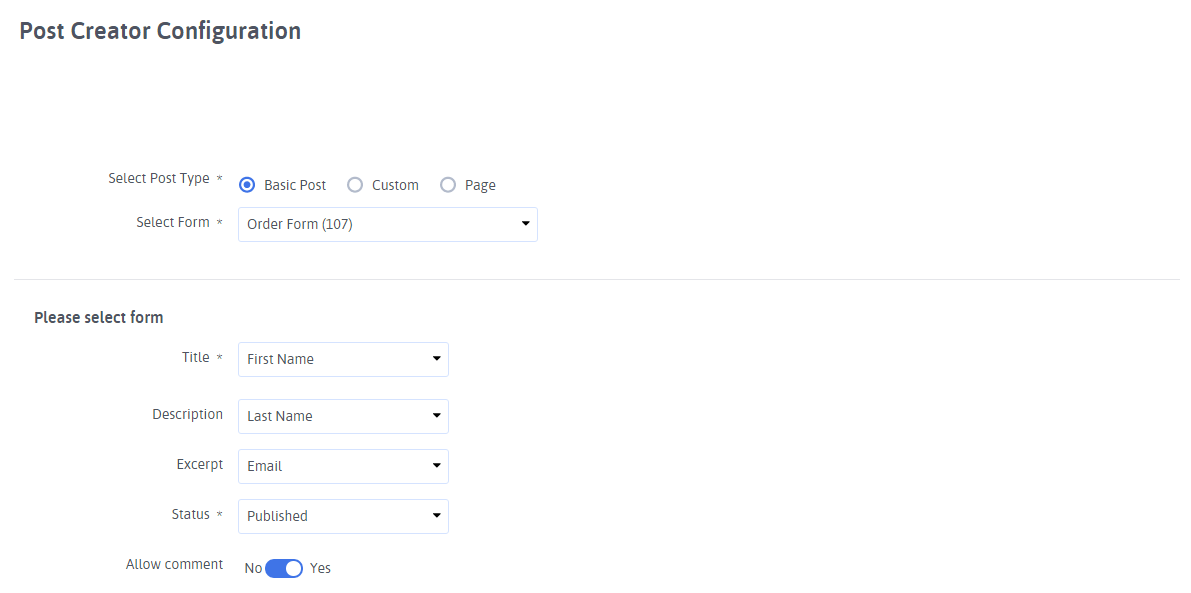 Page Break to Shorten longer form into a multi-step style form
Visitors of your site don't want to go through long and lengthy forms, instead, they look for a form that drives them with some "next level steps".
With the use of page break form elements, you can easily break the long forms into a multi-step style. There are two field options to set multi-step style:
Wizard Tab
and
Survey Progress Bar
, the wizard tab is shown in the tab format and the survey progress bar is shown in the percentage % of the steps completed by the user while filling the survey form.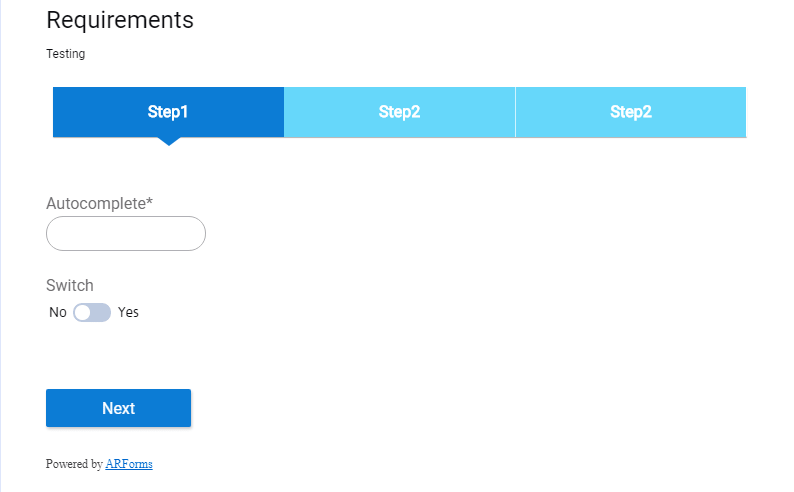 Wizard Tab splits the form and breaks it down into multi-step for the different fiends in the form.
Survey progress bar splits the form fields into multi-steps and shows the progress bar (up to 100% ratio), so whenever the user fills the form it shows how much percentage of your form filling has been accomplished to get an overview of how much % is still left to be filled.
Have a look at the below image!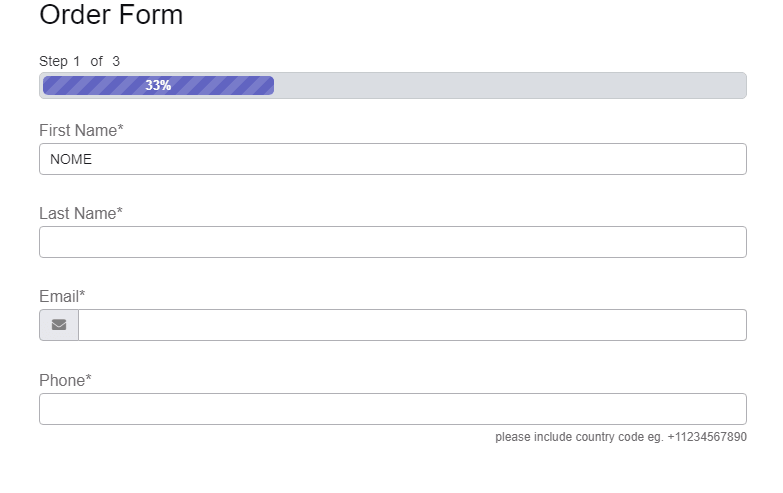 Site-wide Pop-up
One of the great things about
ARForms
is that it allows you to built a site-wide pop-up form.
You can easily
display pop-up forms on your WordPress site
pages and post article page as well.
Further, a "Model Trigger Type" option in site-wide pop-ups lets you select below pop-up options:
On Timer Pop-up – A popup form opens on a specific time interval
On Click – To display popup form when a visitor clicks on a button, link, sticky or fly sidebar.
On Exit – A popup form is displayed when a visitor aims to leave the site with a hover on the browser tab close button of your site.
On Ideal – A popup form is shown when a visitor stays ideal until the preferred time on your site.
On-Page Scroll – When a visitor scrolls down a specific % of your web page then a popup form is displayed.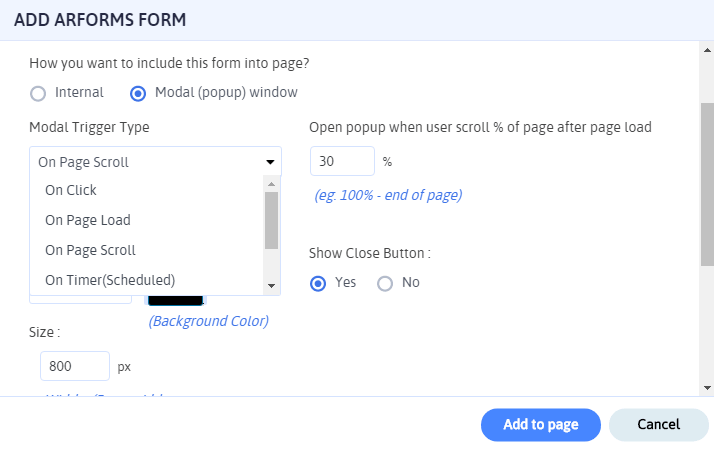 Set Custom Images in Radio Buttons
Setting custom images in radio buttons is one of a kind, a fascinating feature in ARForms that can be used to draw visitor's attention.
It can work best to showcase the survey/products where your site visitors get the option to choose their favorite things. Let's say for instance here we have an order online form with different color shirts for users to choose.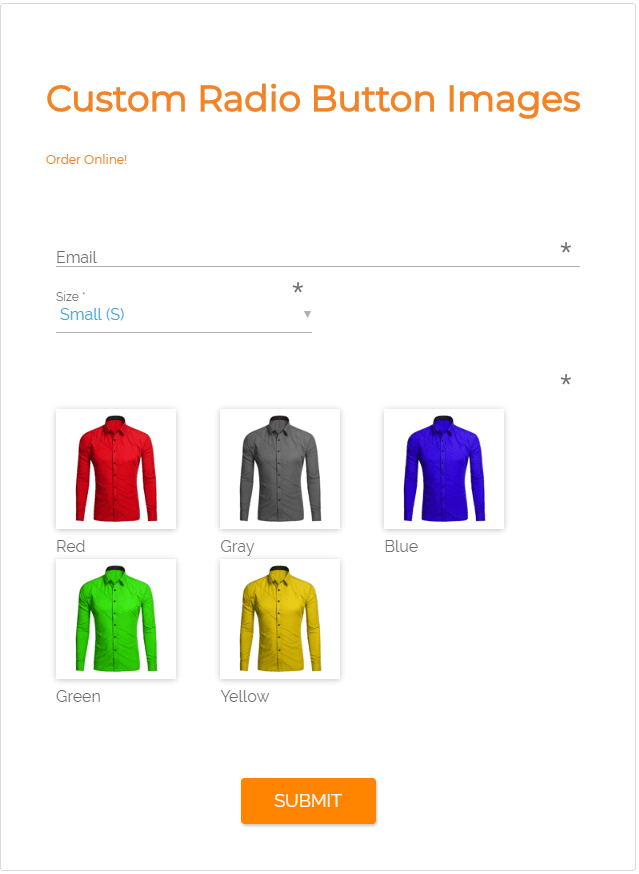 A Robust Real-Time Editor
One of the great advantages of using ARForms is its real-time editor that allows you to create and build multiple types of forms like popup forms, Login/Signup forms, Online Survey forms, and contact forms with a simple drag and drop functionality.
Additionally, you can look up for how your created form appears directly from the preview option to get an overview without navigating elsewhere.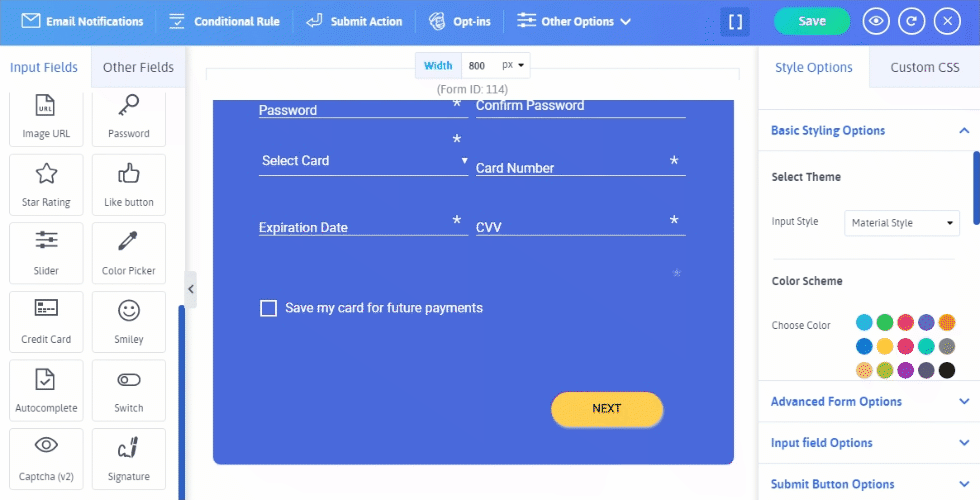 Accepts most trusted PG (Payment Gateways)
The last thing we would like to include is the
Payment gateway
.
Well, when it comes to the trust of the user the most popular payment gateway can make a huge difference in customers to make a recurring payment.
ARForms WordPress Form builder plugin allows integrating with the most trusted payment gateways like
PayPal
, Stripe,
PayPal Pro
, Pagseguro, and Mollie.
Key Takeaways
Finally, using ARForms WordPress form builder plugin and it's Add-ons you can find it essential for your Wordpress site's success. By using the above-mentioned interesting form elements and features, you can make the type of forms that can engage your site visitors giving them a much better value.
If you found this article an insightful one, just leave your valuable feedback down below in the comment section.
You can
check here all features
of ARForms and compare it to others to help you make the best decision!