Opt-ins : Integrate Email Marketing Tools
ARForms supports inbuilt 9 email marketing tools. Email marketing is popular with companies as it is a significantly cheaper and faster way to be in the market by sending emails to your users.
Aweber
MailChimp
GetResponse
iContact
Constant Contact
GVO
eBizAC.Com
Madmimi New
MailerLite New
ActiveCampaign New
Zapier New
HubSpot New
ConvertKit New
Sendinblue New
By using this, your mailing lists will be kept up-to-date automatically when user submit a form. It is an efficient way to Grow your mailing list.
Let us discuss , how you can configure Email Marketing Tools with any form ? From this option of Opt-ins  you can integrate these tools through API method or Web form method.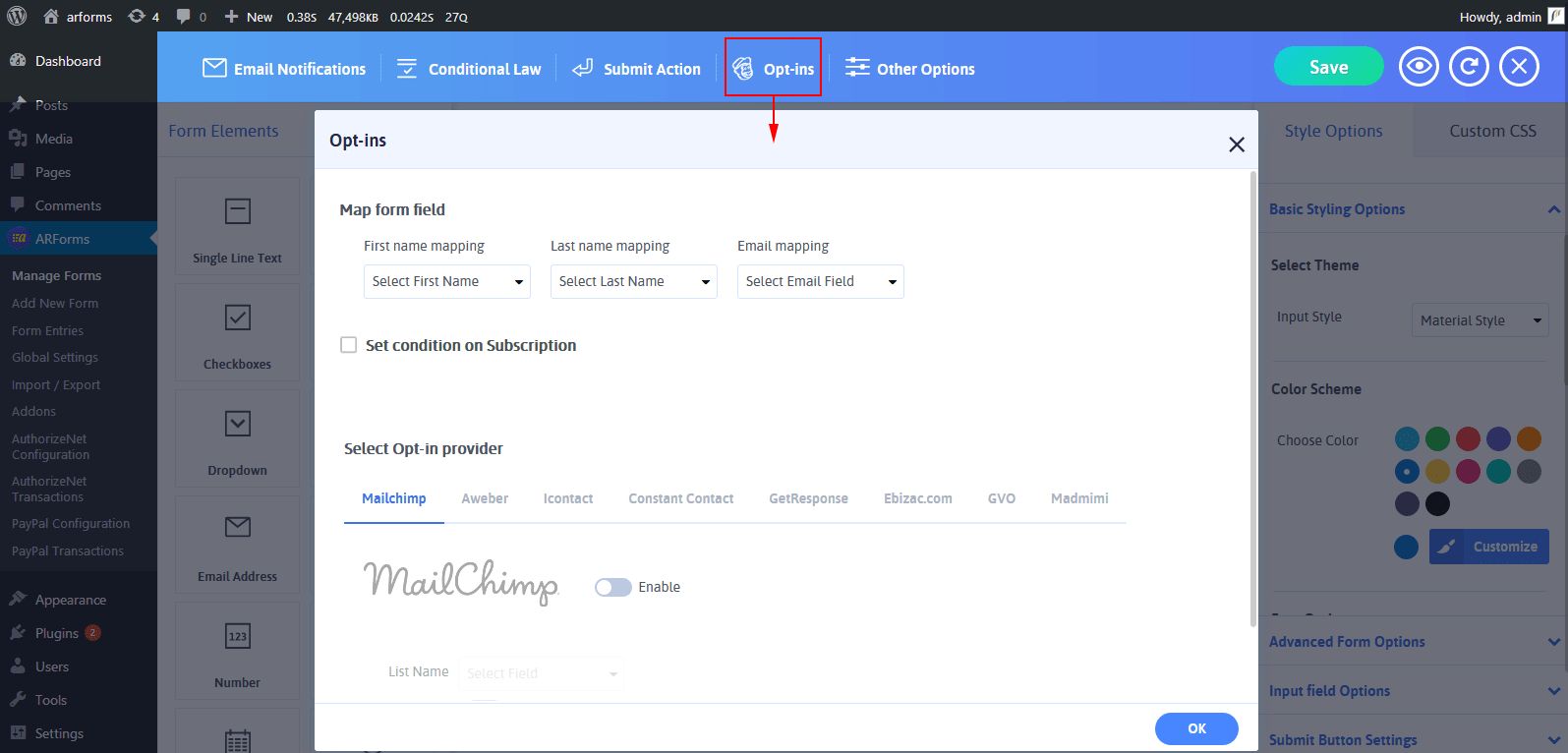 Steps to configure Marketing Tools with any form
Firstly you have to configured it in Global Settings > Email Marketing Tool tab. more details
After that to use it in the form you have to configure the required plugin inside Opt-ins toolbar, where you will find the list of Marketing Tools.
Map form field which you need with you Marketing Tool.
Now you just need to switch enable the required marketing tool, you can enable as many as marketing tools you want for a single form. Here you have to partially configure your Marketing Tools. Here you have to select a list of contact for that marketing tools which derived from API or  Web form method you entered in Global Setting.
ARForms also provides Conditional Subscription for Marketing Tools.Example if you want to add a user to MailChimp only if they have Email Address of Gmail, Condition over Marketing tool is illustrated below.