Keap
Keap For ARForms plugin provides you to quickly create contacts for your related Keap Account using the power and flexibility that ARForms provides.
Keap For ARForms plugin integrates your form entries and Keap API into a single process. You can create contact in Keap Account immediately after form submission from ARForms. This addon requires at least version 5.5 of ARForms. Please make sure that your ARForms plugin is up to date before installing this extension.
Steps For Installation And Activation
You can install plugin either of these two methods.
New install via FTP

a. Download the plugin from our website here, and extract it. You should find a directory arformskeap.

b. In your WordPress installation, upload arformskeap to wp-content/plugins/

c. Activate the "ARForms – Keap Integration Add-on" plugin through the Plugins menu from WordPress admin panel.



New install via the WordPress Uploader

a. Download the plugin from our website here

b. Log in to your WordPress admin panel

c. go to Plugins -> Add New -> Upload

d. Click on choose file and browse the download package. When the plugin uploads successfully, click on Activate Plugin link.

One Click Installation via ARForms

a. Go to ARForms -> Add-ons page

b. Click on Install button of the Keap Add-on listed in the page.

c. Once the process will complete, you can activate the add-on from that page
After activating the plugin, Add/Edit ARForms form and you will be able to see "Keap" tab inside "Opt-ins" model
How Addon Works
First of all login to your Keap account. For a login to Keap account Click here.
If you do not have an Keap account then Create Keap account.
Follow below steps to get your Client ID and Client Secret
Click on "Profile" from the profile icon in the top right.
Click on "Apps" from the option drop down.
Click on Apps For to get Client ID and Client Secret.
You can see the Client ID and Client Secret under the API Keys section.
After getting the Client ID and Client Secret, Copy that Client ID and Client Secret and fill them in ARForms > Global Settings > Email Marketing Tools > Keap.
After Filling Client ID and Client Secret in the relative textbox, click on Get Authorization Code to get all Authorization Code.

After configured Keap in Global Settings, you need to configure Keap for the form to add contact in the Keap Account.
First, create a new form or Edit existing form.
Click on the "Opt-ins" menu from the top bar. You can see 'Keap' in the tab.
First of all, Map First Name, Last Name, and Email fields in the dropdown.
After mapping the fields, enable the switch for 'Keap'.
Save the form.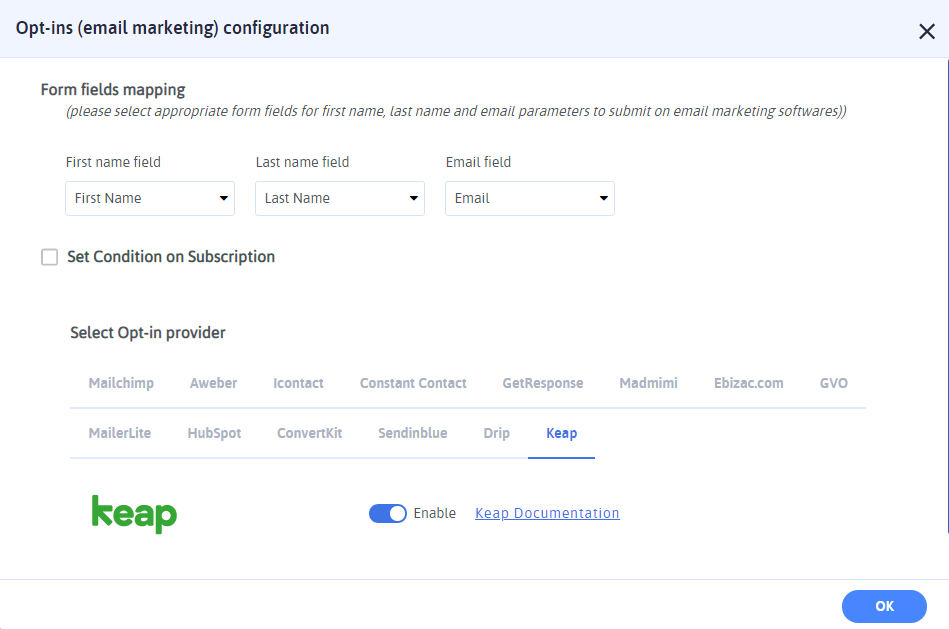 Now when user submit that form, user will be subscribed to your Infusion Soft contact list automatically.