GDPR
Let's see how to make a GDPR compliant privacy policy page in your WordPress site.
Please note that following information should not be considered as legal advice. So, please confirm with legal specialist.
What is GDPR?
GDPR ( General Data Protection Regulation ) is a European Union law applicable from May 25, 2018. According to this new regulation visitors in your site should be known that how their personal data is collected, used and shared in your site.
Make Forms in ARForms and GDPR compliant privacy policy page
To make your forms in ARForms GDPR compliant simply add a required checkbox field like 'Privacy Policy'.
WordPress 4.9.6 released with a privacy policy generator which helps you to create a privacy policy page easily in your site. If are using older version of WordPress you may create a privacy policy page using other WordPress plugins.
Create a privacy policy page from Settings -> Privacy. You will see a link of Check out our guide where you can get suggestions by your plugins and themes for what content to include along with your policies.
ARForms also add policy guide line with information of what personal data ARForms collect and why, which can be helpful to add guide lines in your policy content.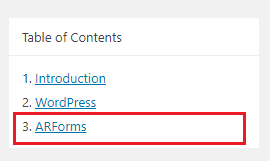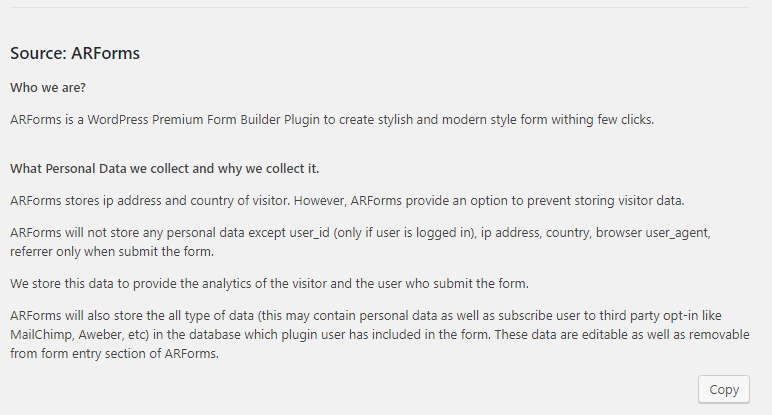 Prevent storing visitor data in ARForms
By default ARForms stores visitor's personal data like IP Address, Country etc for the purpose of visitor analytics. But you can prevent it from form editor. Go to Add / edit Form > Other Options > General Options.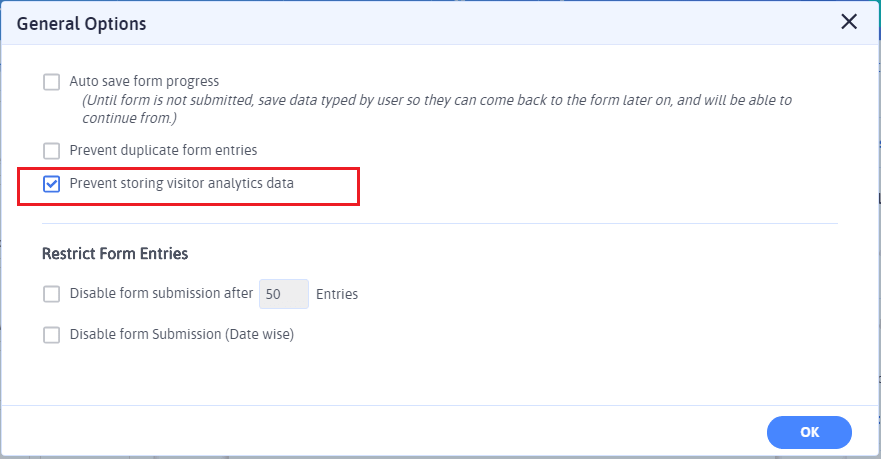 Here you will see Prevent Storing Visitor Analytics Data option with checkbox. If it is checked then analytics data/visitor's personal data will not be stored into the database until the form gets submitted.