Google reCaptcha
ARForms provides google reCaptcha to protect your site from spam and abuse with ARForms.
ARForms has a new extension that allows adding google reCaptcha in forms. Google reCaptcha Add-on For ARForms is just another WordPress plugin that you can install and manage just like other WordPress plugins.
Google reCaptcha ADD-On Of ARForms allows you to integrate Google reCaptcha into your forms without the end-user having to install any special browser plugins.
Please meet minimum requirement of ARForms version to 3.0, PHP version to 5.6 and WordPress version to 4.5
ARForms – reCaptcha Addon Key Features
Simple Interface
Cross-Browser Support
No Browser Plugin
Installation And Activation
You can install plugin either of these two methods.
New install via FTP

a. Download the plugin from CodeCanyon, and extract it. You should find a directory arformsgooglecaptcha.

b. In your WordPress installation, upload arformsgooglecaptcha to wp-content/plugins/

c. Activate the "Google reCaptcha Add-on For ARForms" plugin through the Plugins menu from WordPress admin panel.



New install via the WordPress Uploader

a. Download the plugin from CodeCanyon

b. Log in to your WordPress admin panel

c. go to Plugins -> Add New -> Upload

d. Click on choose file and browse the download package from CodeCanyon. When the plugin uploads successfully, click on Activate Plugin link.
After activating the plugin, you will be able to see new "CAPTCHA" field in Form Elements list as well as "reCaptcha configuration" settings at Global settings in "ARForm".
How Google reCaptcha Addon Works
After activating Google reCaptcha Addon you will be able to configure reCaptcha from reCAPTCHA Configuration in Global Settings, where you need to enter API key to make your reCaptcha field, work with the Form. You can create a free reCaptcha API key.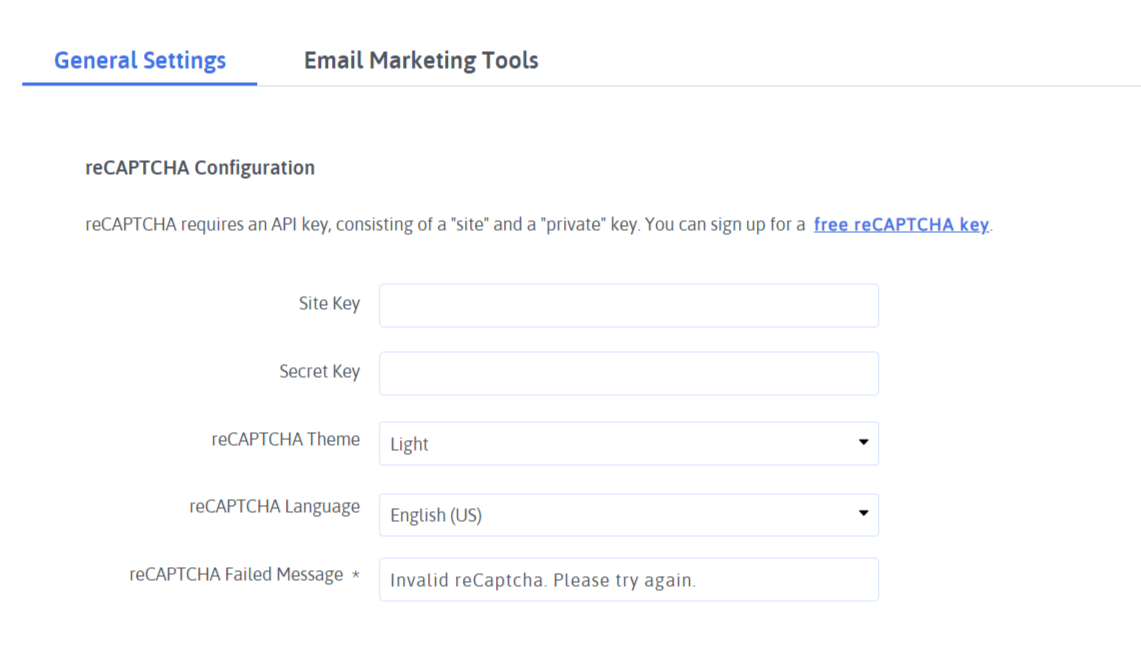 After complete reCaptcha configuration you have to enable reCaptcha in the form. When you configure Google reCaptcha with form you'll get extra option Google reCaptcha(v3) in Input field Options at editor and when you enable reCaptcha, captcha check in every form submission and if captcha is incorrect then display error which you have set in reCAPTCHA Failed Message.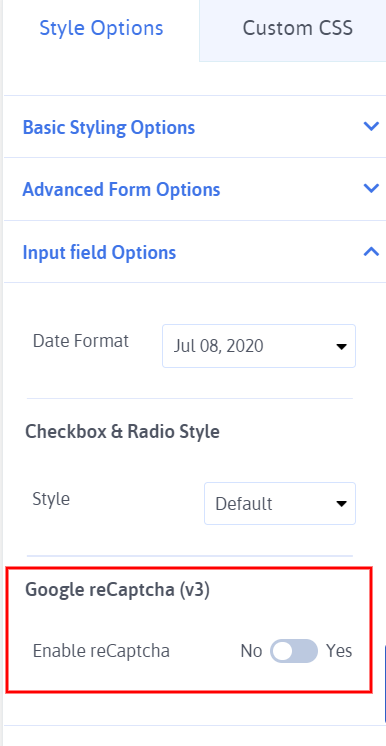 When reCaptcha credentials is incorrect then display error in form submission and form doesn't submit.
Interaction with Google reCaptcha
To use reCAPTCHA you must generate API keys from Google's recaptcha website. To get free API keys Click here.
Click on the "Admin Console" blue button in the top right corner of your screen.
You are now required to login with your Google account, if you do not have one, register for a free account.
Follow the below steps to get your API key
Once you're logged in with your Google account, you will be presented with an interface to generate API keys for your website
To register a website, simply type anything into the "label" field of the form. For example, you can type the name of your website.
Select reCaptcha Type.
Type your website domain into the "Domains" field of the form.
Enter your email address into the "Owners" area of the form.
Once you've filled the whole form, press the "Submit" button.
If everything is correct, you will be redirected to a new page with your new API keys ready to be used.
And You get your site key and secret key:
Change Log
Version 1.4 (18 July, 2020)
Version 1.3 (08 July, 2020)
Update reCaptcha to version 3
Version 1.2 (01 January, 2020)
Added compatibility for ARForms version 4.0
Minor bug fixes
Version 1.1 (11 June, 2018)